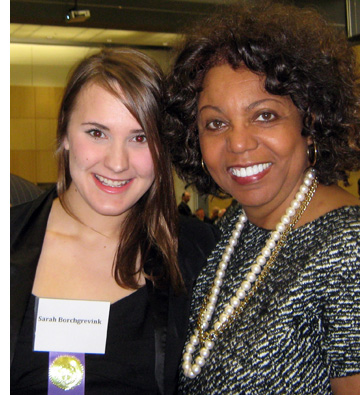 An essay on life lessons, such as not being defined by one's past and the ability to change, that Sarah Borchgrevink said she learned at Lone Star College-CyFair recently earned her a scholarship to help on her path to becoming a teacher.
Borchgrevink was among six Lone Star College System students who read their winning essays on "How My Community College Experience Changed My Life" before some 200 community donors and college staff at the recent 19th annual Lone Star College Foundation's Chancellor's Breakfast.
Sharing that she had a childhood of vulnerability, embarrassment and dysfunction, Borchgrevink's essay begins with recalling an awkward girl feeling as if she were simply floating with a sense of indifference "to the next mark, a tiny dot among a world of color." However, she quickly describes how now she feels "empowered, engaged and energized" thanks to her LSC-CyFair experience.
"I have the power to evolve," she said. "I have the strength to counter my own culture and halt the cycle. I have taken sour lemons, and made sensational, sparkling lemonade."

She goes on to say the college's positive environment gives her confidence, a sense of pride and achievement leading to a self-worth that flourishes in other areas of her life, such as being a better wife (to husband Kevin), mother (to 2-year-old daughter Emma), citizen and friend. She also finds herself more "open-minded, appreciative of change and welcoming of diversity."
Borchgrevink believes an education is a woman's greatest asset and that her community college experience has not only increased her marketability, but has prepared for the future, no matter the destination. As she completes her Associate of Arts in Teaching at LSC-CyFair, her future plans are to transfer to the University of Houston in the fall, pursue a master's and become a high school English teacher.
She ends her essay with "I am proud to be a Lone Star College student. Because of my educational experience, I am no longer a mere dot among a world of color, but a red flower upon a white canvas."
Not mentioned in her essay, but just as influential on Borchgrevink was the positive support of LSC-CyFair's faculty members, like Associate Professor of Political Science Alexander Hogan, who she said encouraged her to apply for scholarships in the first place.
"Sarah has the intellectual skills and the pure will to transform not only her circumstances, but the circumstances of those around her," said Hogan. "When this potential is fully realized, I have no doubt that she will be a leader in any community she chooses to join."
Receiving a $1,000 scholarship from the LSC Foundation and representing each of the six LSCS colleges were Borchgrevink from LSC-CyFair, Lori Terry from LSC-Kingwood, Kyle Muhle from LSC-Montgomery, Kesha Thomas from LSC-North Harris, Rebekah Picou from LSC-Tomball and Stephanie Donahoe from LSC-University Park.
For information on ways to change lives through the LSC Foundation and events, such as the upcoming annual StarGala May 5, go to LoneStar.edu/giving.
For information on LSC-CyFair, go to LoneStar.edu.