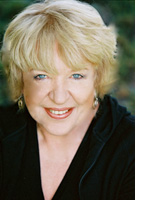 Learn to recognize, respond to and heal from verbal abuse at a free presentation with internationally-known speaker and best-selling author and speaker Patricia Evans set March 7 at Lone Star College-CyFair.
Consultant, speaker, trainer and author on the topic of verbal abuse, Evans has appeared on 20 national television, hundreds of radio shows and been featured in "O" The Oprah Magazine.
"We are proud to have Patricia Evans, who has brought the subject of verbal abuse to America's attention, come share her expertise with us and the community during Women's Month," said Brenda Rivera, committee co-chair. "Our 2012 theme 'Empowering Women to Be All We Can Be' and we have numerous free events throughout March open to the community."
Evans will present "The Verbally Abusive Relationship" at 2 p.m. at the LSC-Fairbanks Center, 14955 Northwest Freeway, as well as at 7:30 p.m. in the Main Stage Theatre on the Barker Cypress campus at 9191 Barker Cypress.
Among other events set for Women's Month are an expert on security and the prediction of violence, a self-defense crash course, speakers on health and wellness from wholistic and traditional perspectives, a panel discussion on breaking gender boundaries in the workforce, a film, a concert and more.
For information, contact Rivera at Brenda.A.Rivera@LoneStar.edu Stasney at Rebecca.A.Stasney@lonestar.edu. or go to LoneStar.edu/womensmonth-cyfair.