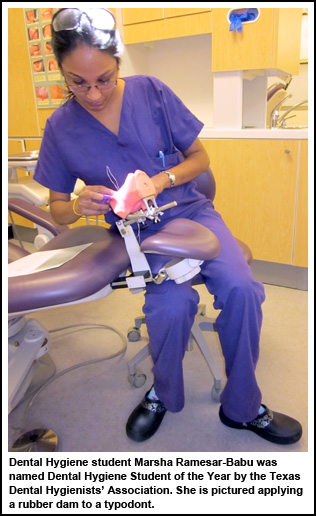 Lone Star College-Kingwood's Dental Hygiene Program just added another feather to its cap. In addition to its 100 percent pass rate on state board exams, the program prepares students to earn state-level recognitions.
Marsha Ramesar-Babu was recently named Dental Hygiene Student of the Year by the Texas Dental Hygienists' Association (TDHA). Ramesar-Babu, the 2012 class president, will graduate in May.
"I was humbled and thrilled to receive this honor, but after the excitement wore off, it made me aware of how much more I am able to serve others," she said. "
Since she started the Dental Hygiene Program, Ramesar-Babu became involved with TDHA and the American Dental Hygienists' Association (ADHA). She became president of the ADHA Student Chapter and a TDHA student delegate for 2011-12. On the national level, she was the 2011 student alternate delegate for ADHA. As a TDHA student delegate, Ramesar-Babu was periodically involved with the board of directors during the year. When she served as an ADHA student alternatedelegate, she participated in the House of Delegates, a parliamentary setting for ADHA representatives who are also dental hygienists across the country.
"My commitments with the professional associations as well as being in good standing with the Dental Hygiene Program, my leadership in a student chapter and legislative experiences and my volunteer work with the program and at church, are what qualified me for such an honor,"Ramesar-Babu.
While at LSC-Kingwood, she and other students participated in various social club events, networked with others and promoted the Dental Hygiene Program. As the chapter's president, Ramesar-Babu developed leadership characteristics through various capacities. She said those experiences prepared her for the legislative/administrativeproceedings with TDHA and ADHA.
"I have gained the clinical knowledge and skill set that is necessary for success in my career as a dental hygienist. I also have leadership experience that will help me meet other career goals," she said.
Ramesar-Babu saw firsthand how much of an impact a career in the dental field has on the community when she began working as a dental assistant in 2000. She explained that dental health professionals empower their patients through confidence by giving them a beautiful smile.
"When you are embarrassed to smile, your self-esteem drops and your entire life changes," she said.
In pursuing her career after graduation, Ramesar-Babu believes that with more time and experience, she will be able to explore several different roles of dental hygienists in the community. Although she has not decided which avenue to follow, she feels a strong need to advocate for the dental hygiene profession, but she also has a passion toward public health.
The philosophy of LSC-Kingwood's Dental Hygiene Program is to provide a learning environment that allows students to develop the full extent of their ability, succeed in a competitive workforce and provide a service to the community. Students receive instruction on hand and ultrasonic instrumentation, fluorides, non-surgical periodontal therapy, oral hygiene instructional education, traditional and digital radiography, current uses of dental materials and dental software technology within the dental setting.
For more information on LSC-Kingwood's Dental Hygiene program, contact Maribeth Stitt at Maribeth.W.Stitt@LoneStar.eduor visit http://www.lonestar.edu/dental-hygiene-dept-kingwood.htm.
---
Register now for credit classes online through myLoneStar. Classes are offered days, evenings, or weekends in traditional, Internet, video, TV and independent study formats. For more information on how to register online, visit www.lonestar.edu/registration.
For general information about Lone Star College-Kingwood, call 281.312.1600 or visit http://lonestar.edu/kingwood.htm
With 75,000 students in credit classes and a total enrollment of more than 90,000, Lone Star College System is the largest institution of higher education in the Houston area, and the fastest-growing community college system in Texas. Dr. Richard Carpenter is the chancellor of LSCS, which consists of six colleges including LSC-CyFair, LSC-Kingwood, LSC-Montgomery, LSC-North Harris, LSC-Tomball and LSC-University Park, five centers, LSC-University Center at Montgomery, LSC-University Center at University Park, Lone Star Corporate College, and LSC-Online. To learn more visit LoneStar.edu.