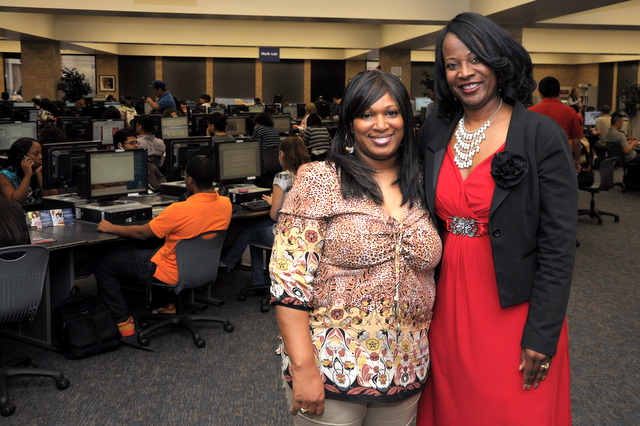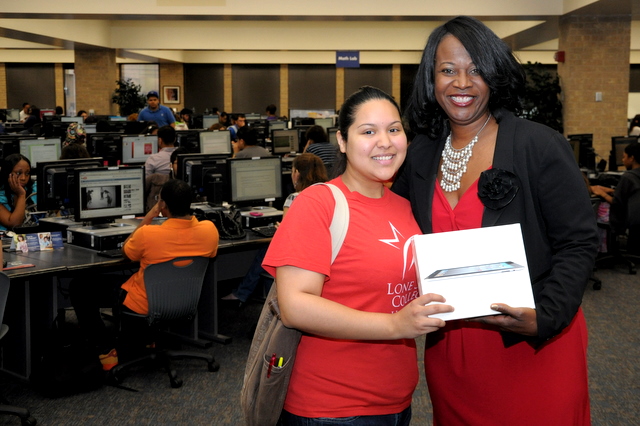 For two students, one-on-one attention and proven student success programs are not the only benefits of beginning their college careers at Lone Star College-North Harris. Amanda Gutierrez and Helen Jones were recently selected as winners in a random drawing of participants in a survey designed to improve the college experience for students.
As part of the college's involvement in the Foundations of Excellence program geared toward completion, graduation, and transfer, a survey was done evaluating the experience of transfer-bound students in nine areas including philosophy, campus culture, college organization, diversity, and transitions.
Jones, a mother who returned to college with her daughter and is pursuing a career in social work, now enjoys a reserved parking spot of her choice thanks to her participation. Gutierrez, a student since 2009 who is planning to obtain her bachelor's degree in nursing, received an iPad for her contributions to the project.
Jones also knows first-hand the value of the college's attention to students and commitment to her success.

"When I started, the advisors encouraged me to take the Learning Frameworks course my first semester," noted Jones. "It made a huge difference in my life. Not only did I learn how to manage my time and study more effectively, I learned a lot about myself."

Currently, she enjoys a 3.42 GPA and is finishing up her associate degree.
Gutierrez also found her success made easier by the personal attention she received. Initially attracted by the location, affordability and reputation of its nursing program, she found the passion for helping students, among all of her professors, to be invaluable. However, she had some advice for incoming students.
"Don't expect everything to be given to you like it sometimes is in high school," she said. "You're going to have to work for your grades, and you really have to want to be in college."
Dorothy Dixon, campus lead for Foundations of Excellence and the director of the college's Center for Teaching and Learning, was delighted to present Jones and Gutierrez with their prizes.
"Amanda and Helen are just two examples of the thousands of students who rely on Lone Star College to reach their education goals," said Dixon. "We are deeply committed to helping all of them succeed, which is why it is so important to have their input on our programs and understand their experiences, to improve our offerings in the future."
In addition to the Foundations of Excellence initiative, which focuses on transfer students, Lone Star College System is the managing partner of a Texas alliance selected to receive funding through the Gates Foundation's national Completion by Design initiative, which is designed to help students finish postsecondary education more quickly and with greater rates of success.
Lone Star College-North Harris is located at 2700 W.W. Thorne Drive, one-half mile south of FM 1960 East, between Aldine-Westfield and Hardy Roads. For more information about the college, call 281.618.5400 or visit LoneStar.edu/NorthHarris.
With 75,000 students in credit classes, and a total enrollment of more than 90,000, Lone Star College System is the largest institution of higher education in the Houston area, and the fastest-growing community college system in Texas. Dr. Richard Carpenter is the chancellor of LSCS, which consists of six colleges including LSC-CyFair, LSC-Kingwood, LSC-Montgomery, LSC-North Harris, LSC-Tomball and LSC-University Park, five centers, LSC-University Center at Montgomery, LSC-University Center at University Park, Lone Star Corporate College, and LSC-Online. To learn more visit LoneStar.edu.
###