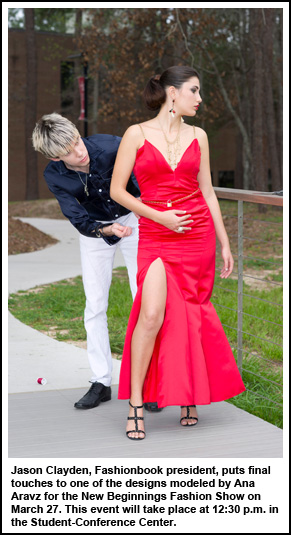 A typical fashion show exhibits the latest fashion trends of the season. At Lone Star College-Kingwood's New Beginnings Fashion Show, the goal is to show the unique and diverse talents possessed by student clubs.
Community members, students, faculty and staff are invited to the free New Beginnings Fashion Show on March 27 at 12:30 p.m. in the Student-Conference Center. Brainchild of LSC-Kingwood's Fashionbook Club, this project started as a clothing drive in which the club collected gently used garments from students and faculty. The members gradually transformed the items into a trend-forward collection, giving each piece a "new beginning".
"The purpose is to generate marketability of several clubs and organizations on campus by showcasing artwork and designs in the platform of a fashion show," said Jason Clayden, a LSC-Kingwood student and president of the Fashionbook Club. "We hope to give respective clubs and its members an opportunity to celebrate the arts and recognize each one's talent and skills. We feel the show will demonstrate that LSC-Kingwood caters to a variety of interests and career paths."
Items displayed will feature a variety of concepts inspired by spring 2012 trends which include African prints, elegant cocktail gowns, quirky avant-garde tank tops and equestrian pants. Each participating student club will showcase a minimum of 10 pieces. The Beading Club is responsible for the accessories and will create bracelets, necklaces and earrings to complement the outfits. The Culture and Arts Club will showcase artwork and designs on plain white T-shirts. The Dance Ensemble will perform a series of fashion-inspired choreographed dances during intervals between collections.
"The fashion show is an amalgamation of how we as students perceive fashion and how we link our knowledge of trends in a tangible form. This show will celebrate the creativity and efforts of active student clubs on campus," Clayden said. "This event demonstrates that the campus provides a platform for a holistic student body. The community will be entertained while viewing the work of many student clubs on campus."
LSC-Kingwood's Fashionbook Club is geared toward students who seek to examine the dynamics of the fashion industry. In addition, the club has partnered with She Fights Back, a nonprofit organization for domestic violence victims that uses arts and fashion as a source for social support, self confidence and resilience.
For more information on the New Beginnings Fashion Show or on the Fashionbook Club, contact Jason Clayden at jclayden@yahoo.com.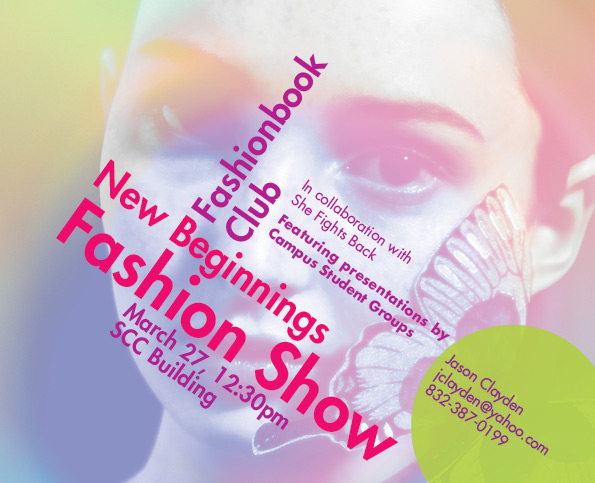 ---
Register now for credit classes online through myLoneStar. Classes are offered days, evenings, or weekends in traditional, Internet, video, TV and independent study formats. For more information on how to register online, visit www.lonestar.edu/registration.
For general information about Lone Star College-Kingwood, call 281.312.1600 or visit http://lonestar.edu/kingwood.htm
With 75,000 students in credit classes and a total enrollment of more than 90,000, Lone Star College System is the largest institution of higher education in the Houston area, and the fastest-growing community college system in Texas. Dr. Richard Carpenter is the chancellor of LSCS, which consists of six colleges including LSC-CyFair, LSC-Kingwood, LSC-Montgomery, LSC-North Harris, LSC-Tomball and LSC-University Park, five centers, LSC-University Center at Montgomery, LSC-University Center at University Park, Lone Star Corporate College, and LSC-Online. To learn more visit LoneStar.edu.