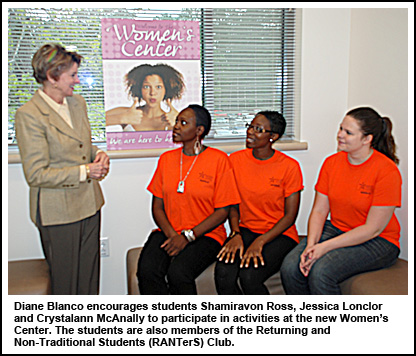 Inside Lone Star College-Kingwood's Student-Conference Center is a new program that is geared toward connecting women with resources and personnel who can help them achieve their goals.
The Women's Center will help the college's female students as well as women of all ages in the community who are interested in connecting with the college to pursue an academic or enrichment program or to volunteer their time or resources. The center will hold various educational and social programs and featured speakers who will share their own experiences and paths to success.
"We will have support groups to help women understand that they are not alone in their journey and to help them connect with others on the same path. We will have mentors available for students who would like to have other encouragers in their lives," said Diane Blanco, Women's Center administrator.
According to Blanco, a large percentage of LSC-Kingwood's student population is female. The Women's Center will aid different underserved populations such as helping single mothers learn how to balance their classes, family responsibilities and jobs; assisting first generation female students who may not find the support they need at home to be successful; or supporting displaced homemakers and women who have experienced downsizing in the workplace.
"All of these issues can create another level of stress and handicap for students who otherwise might have no difficulty with their classes and reaching their goals. Sometimes they may simply need someone to provide encouragement and emotional support, or to connect with another student on their same path so they don't feel so alone," Blanco said. "Other times, they may encounter financial obstacles that threaten to completely derail their academic career. I hope to be able to help these students by connecting them with the wonderful social services and resources that exist in our service area."
To connect with other women on and off campus, the center will host a Coffee Club on April 4 from 8-10 a.m. and a Brown Bag and Book session on April 18 from 12-1 p.m. The book discussion will be on "Burn Down the Ground," a memoir by Kambri Crews.
The Women's Center, located in SCC 202, is open Monday through Wednesday from 8 a.m.-3 p.m. For more information, contact Diane Blanco at 281-318-4332 or Diane.K.Blanco@LoneStar.edu.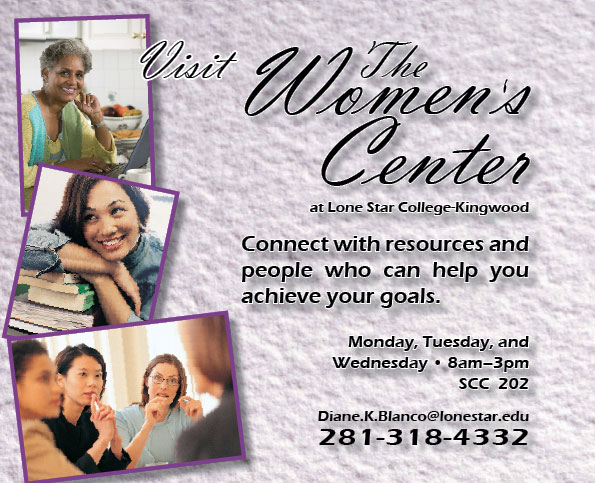 ---
Register now for credit classes online through myLoneStar. Classes are offered days, evenings, or weekends in traditional, Internet, video, TV and independent study formats. For more information on how to register online, visit www.lonestar.edu/registration.
For general information about Lone Star College-Kingwood, call 281.312.1600 or visit http://lonestar.edu/kingwood.htm
With 75,000 students in credit classes, and a total enrollment of more than 90,000, Lone Star College System is the largest institution of higher education in the Houston area, and the fastest-growing community college system in Texas. Dr. Richard Carpenter is the chancellor of LSCS, which consists of six colleges including LSC-CyFair, LSC-Kingwood, LSC-Montgomery, LSC-North Harris, LSC-Tomball and LSC-University Park, five centers, LSC-University Center at Montgomery, LSC-University Center at University Park, Lone Star Corporate College, and LSC-Online. To learn more visit LoneStar.edu.