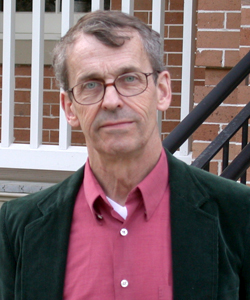 On Thursday, April 19, at 7 p.m., in Lone Star College-Montgomery's Library Building (Building F), a dozen poets published in the anthology Improbable Worlds will read their poems and discuss the anthology's central theme: the modern-day quest for spirituality in our fast-paced, material world. The event is free to the public and will include a book-signing reception.
Leading off will be Peter Cooley, professor and director of creative writing at Tulane, and author of eight books of poetry. The Indiana Review calls Cooley "… one of our most distinctive American poets."
Of his work, The Gettysburg Review said, "Cooley finds occasion for celebration in the minute and circumstantial events of day-to-day living... his obsession with interpreting each aspect of the 'miraculous ordinary' forms the most distinctive feature of his verse."
From 1970-2000, Cooley was poetry editor of The North American Review and has recently been appointed poetry editor of Christianity and Literature.
Recently, he has given poetry readings on the Ohio Poetry Circuit, in Spain and France, in New Zealand where he was the U.S. representative to the International Poetry Festival, in the Czech Republic, and in Cape Town, South Africa. He received the Inspirational Professor Award in 2001 and the Newcomb Professor of the Year Award in 2003.
Improbable Worldsis an anthol­ogy of ninety-two poets from Louisiana and Texas whose poems were a response to the question, "Given our noisy marketplace of belief, how or where can the sacred be found?"
Also reading their poems from the anthology will be Texas Poet LaureateDave Parsons, Carolyn Praytor Boyd, Stella Brice, Carolyn Dahl, Sybill Pittman Estess, Janet Lowery, Randall Watson and Carolyn Florek, editor of the anthology.
The goal of the Writers in Performance series is to bring thought-provoking literature and cultural diversity to the campus of LSC-Montgomery and the surrounding community. The series' events are made possible by the partnership between the Montgomery County Literary Arts Council, LSC-Montgomery Library, the Conroe Commission on the Arts and Culture, Good Books in the Woods, LSC-Montgomery's Academy for Lifelong Learning, and SWIRL, LSC-Montgomery's magazine of student art and writing.
For more information, contact Dave Parsons, professor of English at LSC-Montgomery, at (936) 524-6537 or David.M.Parsons@lonestar.edu.
LSC-Montgomery is located at 3200 College Park Drive, one-half mile west of Interstate 45, between Conroe and The Woodlands. For more information about the college, call (936) 273.7000, or visit www.LoneStar.edu/montgomery.
With 75,000 students in credit classes, and a total enrollment of more than 90,000, Lone Star College System is the largest institution of higher education in the Houston area, and the fastest-growing community college system in Texas. Dr. Richard Carpenter is the chancellor of LSCS, which consists of six colleges including LSC-CyFair, LSC-Kingwood, LSC-Montgomery, LSC-North Harris, LSC-Tomball, and LSC-University Park, five centers, LSC-University Center at Montgomery, LSC-University Center at University Park, Lone Star Corporate College, and LSC-Online. To learn more visit www.LoneStar.edu.