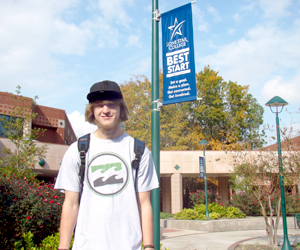 LSC-Montgomery student Connor McClure registered during the college's Avoid the Stampede registration event last fall and was the lucky winner of the free semester's tuition giveaway.
To avoid the stampede (and stress!) of last-minute registration, all Lone Star College-Montgomery Mavericks are encouraged to register during "Avoid the Stampede," an on-campus, express registration event held April 16-18.

On Monday, April 16, and Tuesday, April 17, advisors, counselors, and faculty members will be stationed in the Library Building (Bldg. F) and the General Academic Center (Bldg. G) from 10 a.m.-1 p.m. and 4-7 p.m. to assist students in registering for the fall semester, which begins Monday, August 27. On Wednesday, April 18, the advisors, counselors, and faculty members will be in atrium of the Health Science Center from 10 a.m.-1 p.m.

Students who register during Avoid the Stampede will be eligible for free food, backpacks, college goodies, and other big prizes like an iPad and—best of all—free tuition for the fall 2012 semester.

Last fall, more than 9,000 students registered during Avoid the Stampede or before the winter holiday break. With close to 70 percent of students registering early, long lines for last-minute registration were shorter, certain specialty courses were filled (or were added as needed), and students had a stronger chance of finding a schedule that worked around their commitments by enrolling in those primetime classes.

Students are encouraged to make an appointment with their division advisor or counselor to review their degree plan before Avoid the Stampede.

"We will work with the students to make sure they are taking the courses they need for their educational goals at LSC-Montgomery, as well as the university to which they will transfer," said Erma Walker, an academic counselor at LSC-Montgomery. "This will ensure quick registration during Avoid the Stampede."

For those looking to enroll in Conroe at Lone Star College-Conroe Center, a separate event will be held at LSC-Conroe Center on Monday, April 23, and Tuesday, April 24, from 9 a.m.-12 p.m.

Registration and advising services are available Monday-Tuesday, 8 a.m.-7 p.m.; Wednesday, 8 a.m.-5 p.m.; and Friday, 9 a.m.-3:30 p.m.; in the Student Services Center (Bldg. C). Students may also search for classes and register online at www.LoneStar.edu/registration.

For more information about registration, contact the office of student services at (936) 273-7236.

LSC-Montgomery is located at 3200 College Park Drive, one-half mile west of Interstate 45, between Conroe and The Woodlands. For more information about the college, call (936) 273.7000, or visit www.LoneStar.edu/montgomery.

With 75,000 students in credit classes, and a total enrollment of more than 90,000, Lone Star College System is the largest institution of higher education in the Houston area, and the fastest-growing community college system in Texas. Dr. Richard Carpenter is the chancellor of LSCS, which consists of six colleges including LSC-CyFair, LSC-Kingwood, LSC-Montgomery, LSC-North Harris, LSC-Tomball, and LSC-University Park, five centers, LSC-University Center at Montgomery, LSC-University Center at University Park, Lone Star Corporate College, and LSC-Online. To learn more visit LoneStar.edu.