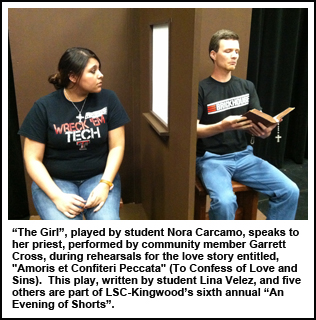 Brief drama pieces are guaranteed to entertain the audience at Lone Star College-Kingwood's "An Evening of Shorts" April 19-22.
As the second production of the spring semester, the sixth annual "An Evening of Shorts" is an original play festival held on campus. All works are written, directed, performed and designed by LSC-Kingwood students, staff and community members.
"We are very proud of 'An Evening of Shorts' because we are giving our students an excellent opportunity to foster new plays as they work together on creative teams to present entirely new works to the public," said Eric Skiles, professor and artistic director of Theatre at LSC-Kingwood.
This year, the production will feature the following original works: "Complications of a Veteran" written by Alex Lazar and directed by Billy Williams; "Dual Cognizance" written by Patti-Jo Neronha and directed by Jesse Anholt; "Thicker Than Water" written by Katherine Valdez and directed by Emily Morris; "Amoris et Confiteri Peccata" written by Adelina Velez and directed by Jessica Mallard; "Two Lovers" written by Gerardo Morena and directed by Neronha; and "The Unexamined Life" written by Dan Ko, directed by Robert E. Malbrough. Other individuals involved in this production include Skiles, directing mentor; Daniel Calderon, Hannah von Gonten, Angie Juarez, Robert J. Byford, Jared Durtschi, Kimberley Coulter, Nora Carcamo, Garrett Cross, Laura Ham, Carmelita Gladney, Chantel Moody, Megan Neronha, Holly Maguire, Ben Peets, sound board op/tech crew; Sarah Powell, production stage manager; and Kali Vlahos, design mentor and technical director.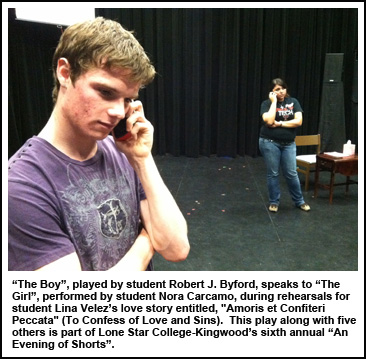 "An Evening of Shorts" company is comprised of 28 students, faculty and staff and all have unique jobs for each of the plays. For example, one person will become an actor, help move scenery during another play, direct the third play and then help with costumes for another. This opportunity allows students to experience all aspects of theatrical production during the course of the show.
"Writing a play is difficult, but getting it produced is almost impossible. We are offering six new playwrights the chance to see their work brought to life for the very first time," Skiles said. "The community should support this highly creative endeavor by experiencing something that is very unique – an evening of six different stories told in six different styles. Each play is 10 to 20 minutes in length, so the evening moves at lightning speed."
"An Evening of Shorts" will run April 19-21 at 7:30 p.m. and April 21-22 at 2 p.m. in LSC-Kingwood's Black Box Theatre. General admission is $12, senior citizens are $10 and students are $5.
For more information on "An Evening of Shorts" contact Eric Skiles at 281-312-1532 or Eric.C.Skiles@LoneStar.edu.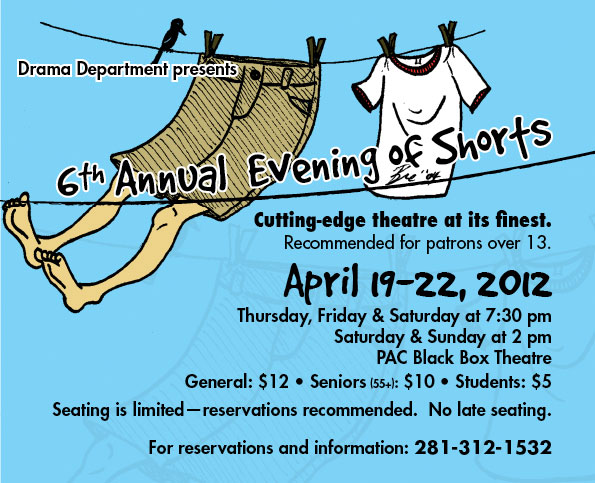 ---
Register now for credit classes online through myLoneStar. Classes are offered days, evenings, or weekends in traditional, Internet, video, TV and independent study formats. For more information on how to register online, visit www.myLoneStar.edu/BeReady.
For general information about Lone Star College-Kingwood, call 281-312-1600 or visit http://lonestar.edu/kingwood.htm
With 75,000 students in credit classes and a total enrollment of more than 90,000, Lone Star College System is the largest institution of higher education in the Houston area, and the fastest-growing community college system in Texas. Dr. Richard Carpenter is the chancellor of LSCS, which consists of six colleges including LSC-CyFair, LSC-Kingwood, LSC-Montgomery, LSC-North Harris, LSC-Tomball and LSC-University Park, five centers, LSC-University Center at Montgomery, LSC-University Center at University Park, Lone Star Corporate College, and LSC-Online. To learn more visit LoneStar.edu.