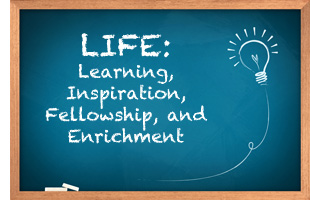 From heart health to fault lines, and music to museums, as well as summer snacks, learn something new at these upcoming May workshops.
Lone Star College-CyFair's Learning, Inspiration, Fellowship, and Enrichment (L.I.F.E.) programs are free and held Wednesdays from 10 a.m. to 11 a.m. in the library (Room 131 unless otherwise noted) at 9191 Barker Cypress.
• May 2 — Take the Guess Work Out of Your Heart Health
Without looking inside of your body, your doctor uses various clues to your health: weight, blood pressure, cholesterol, C-reactive protein, among others. What if we could show you a way to see inside your body to assess your cardiovascular health? Professor Thomas Cunningham reveals the latest technology in echocardiography.

• May 9 — Houston, All Shook Up
You may not feel it like the Californians, but Houston has its own fault lines which could mean trouble for our roads, pipelines, and buildings. Geology professor Cathy Greenberg uncovers the Long Point Fault and what it means to you.

• May 16 — Pat O'Brien's Piano Bar at CyFair
It's not New Orleans, but don't tell that to Scubie Hoyt, a piano bar maven, who will lead us in song and a rip-roaring good time in ARTS Recital Hall 102.

• May 23 — The Pearl Fincher Museum of Fine Arts
Director Tim Novak presents Christian Imagery in the Art of the Renaissance and Baroque. Da Vinci Code here we come!

• May 30 — It's Summertime and the Living is Easy
Make your meals light and cool this long, hot summer. Jackie Barnhart concocts some inventive gazpachos, asparagus wheels, and an edible arrangement of melons and assorted fruits. Homemade lemonade, anyone?
Call the library at 281.290.3214 for L.I.F.E. program information or go online to LoneStar.edu.