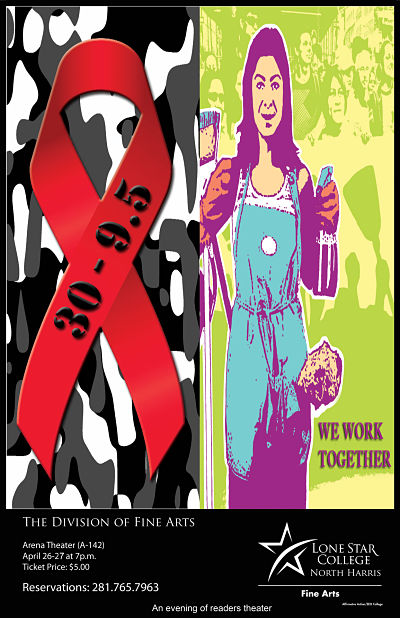 The Lone Star College-North Harris Division of Fine Arts will present an evening of reader's theater on Thursday, April 26 and Friday, April 27 at 7 p.m. The show will feature unique performances and display a fusion of students' theatrical and speech talents.
The production will take place in the college's Arena Theater located in room 142 of the Academic Building. Ticket prices are $5. The show was compiled and directed by Wade Hescht, LSC-North Harris professor of speech and Casey Garcia, LSC-North Harris professor of humanities.
The performance is comprised of two reader's theaters, with each taking on a distinct social issue facing our world today.
"30-9.5"takes a deeper look at the 30 years since scientists identified HIV as the cause of AIDS. Scientists are only now daring to whisper the word cure when discussing the pandemic that currently affects 33 million adults and 2.5 million children worldwide and infects someone in the United States every nine and a half minutes. The reader's theater suggests that a cure will require funding commitments, strong community engagement, rigorous and innovative scientific endeavor and, above all, further collaborative multidisciplinary scientific research. Thirty years is a long time, and there have been advancements, but maybe it's time that we take a step back and consider the question: Why do we still not have a cure?
"We Work Together" discusses our own Bill of Rights and the efforts to help domestic workers attain the same decent and fair working conditions to which every human being is entitled. While the 1938 Fair Labor Standards Act provided all workers with a number of protections including a 40-hour week, overtime pay, and a minimum wage, domestic workers were deliberately excluded from this law and the protections it offered due to a concession to southern lawmakers hoping to maintain slavery-era work conditions. Many of these exclusions remain in effect today. As a result, domestic workers are one of the most vulnerable workforces in our nation. Only recently has progress been made with New York State passing the first of its kind Domestic Workers Bill of Rights, and California attempting to follow suit.
Call 281.765.7963 for reservations or visit LoneStar.edu/arts-nharris for more information and a complete listing of the college's upcoming fine arts events. The LSC-North Harris Division of Fine Arts offers a variety of concerts, theatrical productions, art exhibitions and lectures, workshops and more throughout the year.
Lone Star College-North Harris is located at 2700 W.W. Thorne Drive, one-half mile south of FM 1960 East, between Aldine-Westfield and Hardy Roads. For more information about the college, call 281.618.5400 or visit LoneStar.edu/NorthHarris.
With 75,000 students in credit classes, and a total enrollment of more than 90,000, Lone Star College System is the largest institution of higher education in the Houston area, and the fastest-growing community college system in Texas. Dr. Richard Carpenter is the chancellor of LSCS, which consists of six colleges including LSC-CyFair, LSC-Kingwood, LSC-Montgomery, LSC-North Harris, LSC-Tomball and LSC-University Park, five centers, LSC-University Center at Montgomery, LSC-University Center at University Park, Lone Star Corporate College, and LSC-Online. To learn more visit LoneStar.edu.
###