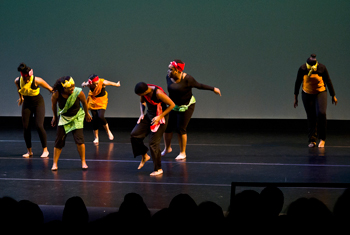 Lone Star College-Kingwood's Dance Department proudly presents its spring dance concert, "Relationships", at the Performing Arts Theatre on Wednesday, May 2 at 7:30 p.m.
The performance is a culmination of the semester's work by faculty members, Trish King and Amy Llanes, by student members of the LSC-Kingwood Dance Ensemble, and by invited guests from the community.
The LSC-Kingwood Dance Ensemble is in its second year. The group was formed in the fall of 2009 to provide opportunities for students to develop their own original choreography and to perform in the end-of-semester concert. Students presenting their works this semester include Aneisha Davis, Anthony Davis and Zaynah Neely.
"Ms. Llanes and I are impressed by the depth of material that the students have explored this semester in creating their works. Subject matter includes human trafficking, suicide and a tribute to a mother. The students are digging in deep to express through dance in new and profound ways," King said.
Dance students who are not involved in choreographing or performing will be serving in backstage roles helping to make the concert run smoothly. In addition to the student pieces, King and Llanes will present both contemporary and classical choreography. King's works include "Brasileiro" and "Small Comforts". Llanes' works include "I am.. We are..." and "Like My Mother", which was also performed at the LSC-Montgomery dance concert in April.
Guest artists who will be featured in the performance include students from LSC-Montgomery in a piece choreographed by Cody Brooks and Bree Wisnoski called "Digitally Intertwined". Cecelia Spear and Lauren Peterson of the fabulous Kingwood Dance Theatre will be performing in "Walk It Off", choreographed by Hannah Larson. Alumnus Kristen Hanks will perform in her work, "The Art of Going Insane".
Additionally, students had the opportunity this semester to work with invited guest choreographer Susan Chambers-Cilie, associate choreographer for Kingwood Dance Theatre, Kingwood Youth Ballet and Centre Stage. They will perform in her work, "Get Juicy".
Rednerrus Feil Dance Company, a professional, Houston-based company directed by Llanes, will perform "Breathless". Company members Crystal Scott and Jamie Zahradnik will take the audience on a journey that may have them questioning their position or role in multiple types of relationships.
"We called the concert 'Relationships' because we feel that the word brings to mind the connections and associations we have with the world around us, our co-workers, our friends, our family. We have relationships with food, with our careers, with nature, with our pets. We have a relationship with the space around us, our goals, our breath and the rhythms of our daily lives. We have healthy and unhealthy relationships, satisfying and painful relationships, deep and superficial relationships, and those in between. We have relationships with ourselves," King said. "This concert invites you to a journey of relationships. Perhaps you will be reminded of the relationships you have in your own lives and take the opportunity to reflect upon them."
General admission tickets for "Relationships" are $5 and will be available at the door. For additional information call 281-312-1656.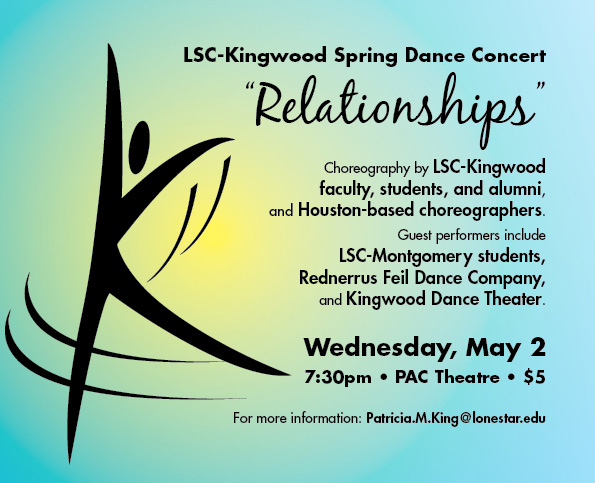 ---
Register now for credit classes online through myLoneStar. Classes are offered days, evenings, or weekends in traditional, Internet, video, TV and independent study formats. For more information on how to register online, visit www.lonestar.edu/registration.
For general information about Lone Star College-Kingwood, call 281.312.1600 or visit http://lonestar.edu/kingwood.htm.
With 75,000 students in credit classes and a total enrollment of more than 90,000, Lone Star College System is the largest institution of higher education in the Houston area, and the fastest-growing community college system in Texas. Dr. Richard Carpenter is the chancellor of LSCS, which consists of six colleges including LSC-CyFair, LSC-Kingwood, LSC-Montgomery, LSC-North Harris, LSC-Tomball and LSC-University Park, five centers, LSC-University Center at Montgomery, LSC-University Center at University Park, Lone Star Corporate College, and LSC-Online. To learn more visit LoneStar.edu.