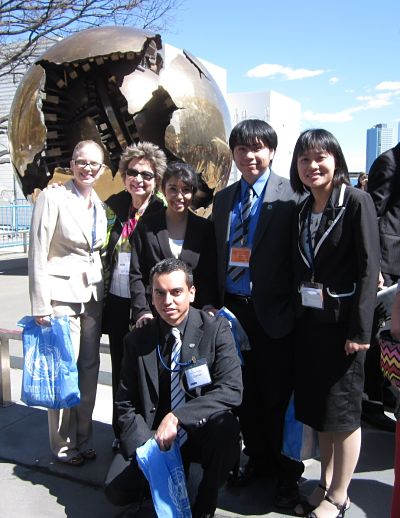 Five students from Lone Star College-North Harris recently attended the 2012 National Model United Nations-NY (NMUN-NY) Conference, which attracted more than 5,400 students from 315 schools around the globe. The delegation from LSC-North Harris included Ralph Christian Angeles, Nguyen Cao, Parisa Koochack, Ashleigh Musselman and German Sanchez.
"It was a great opportunity to experience first-hand the role of the United Nations. It really forced you to look at situations from different perspectives and come up with ideas that worked for everyone," said Sanchez.
Cao and Sanchez joined efforts to win an award for outstanding position paper for the General Assembly 2nd Committee. Cao also won an award for her outstanding position paper for the General Assembly 1st Committee.

"We were representing one of the smaller countries, so we had to make sure that we were treated equally and that our issues were still taken into account during the decision-making process," he added.
The LSC-North Harris students were part of the delegation representing the country of Cyprus and presented topics before the General Assembly 1st, 2nd, and 3rd Committees, The Conference on Sustainable Development – Rio +20, and The Conference for the Arms Trade Treaty. Diana M. Cooley, LSC-North Harris professor of speech served as the faculty advisor for the delegation.
The young delegates heard from dignitaries who encouraged them to become responsible global citizens and to step up to help lead the United States, and the world, by gaining a better understanding of international relations. Participation as a conference delegate requires months of rigorous academic preparation on conference topics.
The conference is sponsored by the National Collegiate Conference Association (NCCA), a 501(c)(3) nonprofit organization and non-governmental organization affiliated with the UN Department of Public Information. More information about the NMUN is available at its website www.nmun.org.
Lone Star College-North Harris is located at 2700 W.W. Thorne Drive, one-half mile south of FM 1960 East, between Aldine-Westfield and Hardy Roads. For more information about the college, call 281.618.5400 or visit LoneStar.edu/NorthHarris.
With 75,000 students in credit classes, and a total enrollment of more than 90,000, Lone Star College System is the largest institution of higher education in the Houston area, and the fastest-growing community college system in Texas. Dr. Richard Carpenter is the chancellor of LSCS, which consists of six colleges including LSC-CyFair, LSC-Kingwood, LSC-Montgomery, LSC-North Harris, LSC-Tomball and LSC-University Park, five centers, LSC-University Center at Montgomery, LSC-University Center at University Park, Lone Star Corporate College, and LSC-Online. To learn more visit LoneStar.edu.
###