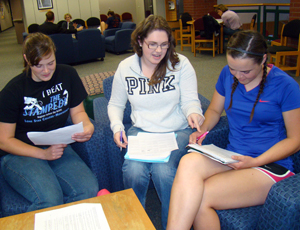 Cram sessions. Study groups. Peer review. No matter what you call it, Dr. Craig Livingston, professor of history at Lone Star College-Montgomery, has found that if he organizes a last minute study session (and brings coffee!), students will come—and will see improvements on their test scores.

The classroom support system, which Livingston dubs "88 Study Groups," is geared for students who may be struggling or just want to improve their overall grade in Livingston's History 1301 and History 1302 courses. Students with an overall score of 88 percent or higher in each course are invited to lead three- to four-person study groups that meet for one hour the night before an exam for a last-minute cram session.

"This is different from normal campus services, as the groups review my custom-made study guide," said Livingston, a founding faculty member who has been teaching at LSC-Montgomery since it opened in 1995. "The tutors know the material intimately and have proven themselves on previous tests and quizzes. The tutors are like Napoleon's Imperial Guard—ready for anything."

The data Livingston has collected proves his point that students who study together before a test, generally perform better.

In spring of 2010, the students who came to the "88 Study Groups" session held before Test No. 2 earned on average six points (or 32 percent) higher on Test No. 2 than on Test No. 1.

"Doing the study group actually helped bump my grade up a little," said Skylar Huddleston, one of Livingston's students who attended the 88 Study Group session held this spring semester. "I got to see how the other people learn. We even came up with little sayings to help remember a question. It definitely helped."

Huddleston is at LSC-Montgomery to complete some of the basic courses required for a bachelor's degree in petroleum engineering from Texas A & M University. Her sister, Myka Huddleston, attended the same session and was able to increase her grade from a B to an A. Myka plans to become a personal trainer and transfer to Western State College of Colorado after she completes her associate degree at LSC-Montgomery.

Student tutor Laura Hayes led the Huddleston sisters in the study group.

"This is a really good idea for both the group leader and those who show up," said Hayes, who is pursuing a degree in biology. "I personally spend time each day reading Livingston's study guide and rewriting it on note cards to learn it."

Study groups have been a supplement to classroom education for hundreds of years. Livingston, however, has simply formalized the process for his students and specifically selected the tutors.

"Next to class attendance, the study group is the biggest multiplier of student success," said Livingston. "I've won all kinds of awards, but nothing rivals the reward of being with students on an every day basis in- and out-of-class, going about the business of academia. Promoting student success isn't about a program, a pamphlet, or a slogan—it's about presence."

LSC-Montgomery is located at 3200 College Park Drive, one-half mile west of Interstate 45, between Conroe and The Woodlands. For more information about the college, call (936) 273.7000, or visit www.LoneStar.edu/montgomery.

With 75,000 students in credit classes, and a total enrollment of more than 90,000, Lone Star College System is the largest institution of higher education in the Houston area, and the fastest-growing community college system in Texas. Dr. Richard Carpenter is the chancellor of LSCS, which consists of six colleges including LSC-CyFair, LSC-Kingwood, LSC-Montgomery, LSC-North Harris, LSC-Tomball, and LSC-University Park, five centers, LSC-University Center at Montgomery, LSC-University Center at University Park, Lone Star Corporate College, and LSC-Online. To learn more visit LoneStar.edu.