Pairing college and high school students together to make a difference in the community is the basic idea of Lone Star College-Kingwood's Public Achievement Program.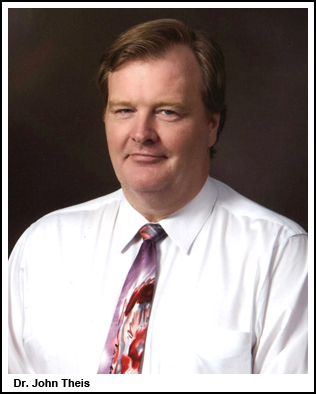 The implementation of this program, as well as it being the only initiative of its kind at a community college level in the United States, led the college's Teaching and Learning Center (TLC) committee to name Dr. John Theis, Innovator of the Year for 2012. Theis, a political science professor at LSC-Kingwood, received $1,500 to use for professional development.
"Innovator of the Year recognizes an individual or team who has designated and implemented a significant innovation that has had a positive impact on the education of students," said Suzy Page TLC committee chair and English professor.
Public Achievement started at LSC-Kingwood in fall 2010 as a youth civic engagement initiative focused on the most basic concepts of citizenship, democracy and public work. This program started as a partnership between the college and Splendora Early College High School in the Splendora Independent School District. College students as coaches and high school students worked to identify issues in their community where they wanted to effect a change. Issues included initiating a recycling program at the high school, creating a school store and rallying against educational budget cuts in the state.
"I am very happy to be named Innovator of the Year for 2012. I think the Public Achievement program hasput LSC-Kingwood in the community to do more civic activities," Theis said. "This program draws on the talents and desires of ordinary people to build a better world and to create a different kind of politics".
Public Achievement expanded in its second year to include Humble ISD's Quest Early College High School, which is located at LSC-Atascocita Center. The college coaches were able to empower 74 high school students to explore avenues to garner support for their projects including presentations to Splendora ISD's board of trustees and to faculty at Quest. In turn, the coaches learned to facilitate, developed leadership skills and created a foundation for future successes.
"Both the college and high school students have learned that this is the kind of politics that everyone can do, not just politicians," Theis said. "These partnerships are invaluable in building the civic presence of LSC-Kingwood and re-invigorating the democratic mission of community colleges as 'Democracy's Colleges'".
The college's program is an example for other communitycolleges around the country. As a leader in civic engagement, four LSC-Kingwood coaches will present at the American Democratic Project's annual meeting in San Antonio. Theis said that based on LSC-Kingwood's model, Delta College in Michigan and BroomCollege in New York have begun its own programs.
"We have become the model program for other communitycolleges to start their own initiatives. In addition to Delta and Broom establishing its programs, Tarrant County Community College in Fort Worth and Maricopa Community College in Arizona are also looking at starting itsown initiatives."
The LSC-Kingwood Public Achievement program will continue to grow at both Splendora and Quest. It is expected that the number of participants will increase by 50 percent next year and expansion of the program to a third school is expected in fall 2013. For more information on the initiative, visit http://www.lonestar.edu/16634.htm.
---
Register now for credit classes online through myLoneStar. Classes are offered days, evenings, or weekends in traditional, Internet, video, TV and independent study formats. For more information on how to register online, visit www.lonestar.edu/registration.
For general information about Lone Star College-Kingwood, call 281.312.1600 or visit http://lonestar.edu/kingwood.htm
With 75,000 students in credit classes and a total enrollment of more than 90,000, Lone Star College System is the largest institution of higher education in the Houston area, and the fastest-growing community college system in Texas. Dr. Richard Carpenter is the chancellor of LSCS, which consists of six colleges including LSC-CyFair, LSC-Kingwood, LSC-Montgomery, LSC-North Harris, LSC-Tomball and LSC-University Park, five centers, LSC-University Center at Montgomery, LSC-University Center at University Park, Lone Star Corporate College, and LSC-Online. To learn more visit LoneStar.edu.