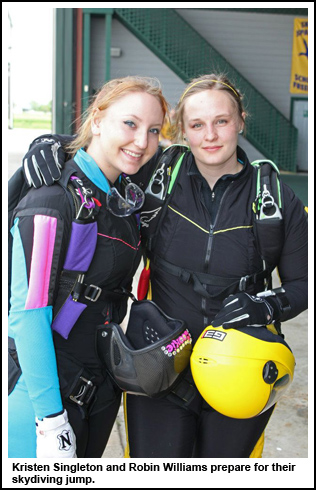 Fulfilling a friend's birthday request turned into an adrenaline-rush hobby for one Lone Star College-Kingwood student.
Soaring above land like a bird, Kristin Singleton did her first tandem at Skydive Spaceland in June 2011. She and her friend jumped out at 14,000 feet and fell for 60 seconds at 120 miles per hour until they pulled their parachute at 6,000 feet.
"When we pulled the parachute, my ears hurt badly and I felt sick to my stomach but I made it to the ground without getting sick," Singleton said. "After that, I wasn't really interested in going again."
A month later on a sunny day, Singleton reconsidered her position on skydiving and enrolled in the Skydiver Training Program at Spaceland where she learned how to jump solo. Once she had 25 jumps, she earned her A license which allows her to jump solo or with anyone else who also has their license.
"To some people, skydiving might seem crazy. Who jumps out of a perfectly good airplane? But I absolutely love it," she said. "It doesn't feel like you're falling, it feels like you're flying. You feel free. Skydiving is a passion for me and I'm so glad to have found something in my life that I love so much."
As a pilot flying small aircrafts, Robin Williams would often fly over air space that was used by skydivers. Like Singleton, Williams pursued her calling of the sport at Skydive Spaceland.
"Skydiving is something that had always crossed my mind as far back as I can remember. After earning my private pilot license, I decided to take a few scuba diving classes at LSC-Kingwood," Williams said. "One day I woke up and decided that I had been up in the air, I had been deep under water and now I wanted to, or rather had to, skydive."
After her first skydiving tandem in April 2011, Williams was immediately hooked. She completed her second lesson a month later on her 24th birthday and signed up for the student skydiving course that same day. One week later, she learned the basics of skydiving and safety procedures of solo skydiving. Williams made her first solo skydive, with an instructor at her side during free fall, in June 2011. She was guided by radio to land under a canopy.
"I had waited long enough so one morning I decided that I was going even if I could not find any of my friends to jump with me. After my first solo skydive, I knew that skydiving was for me," she said. "After I got my finances in order, I returned to complete the Accelerated Free Fall (AFF) Program and received my A license."
With several jumps under their belts, Singleton and Williams have earned many awards and recognitions. Both skydivers received the Star Crest Recipient award for jumping out of an airplane with more than eight people unlinked (not holding on to each other) and Williams earned the Night Star Crest Recipient award for jumping with eight people unlinked at night. Singleton and Williams received the Texas State High Altitude General Record for jumping out at 22,250 with oxygen tubes in the plane. They also set records for the Texas State Women's High Altitude, the Texas State Collegiate High Altitude, the United States National Women's High Altitude and the United States National Collegiate High Altitude.
"We were the only two participants to earn all three state high altitude records and two national high altitude records for a total of five records in one day," Williams said.
"It is very rare for someone in their first year of skydiving to have that many records, so it is pretty awesome that we were able to achieve all of those records," Singleton added.
With all of her accomplishments including earning her B license, Singleton plans to continue her skydiving skills by learning how to freefly, which consists of flying in a sitting position or going head down. She is also working on belly flying so she can join a group of 20 skydivers.
"I am also going to be doing a night jump this year and working toward 200 jumps so that I can get my C license and jump out of a hot air balloon!" she said. "I also want to earn my tandem and AFF rating so I can be a skydive instructor."
At LSC-Kingwood, Singleton is in the Game Design and Simulation program and plans to graduate in 2014 with her Associate of Arts degree. Her goal is to either be a level designer or do animation while she works toward her bachelor's degree.
Williams, who also earned her B license, has just joined an all-female team of 20 skydivers who will compete at Skydive Spaceland in June. Continuing to skydive, she plans to learn about the various skills available like wing suiting and canopy formation work.
"I hope to have my C license by the end of summer. One day, I might even try BASE jumping," she said. "I plan to continue skydiving until I'm old enough to tell people my age 'I was doing that before you were even born' and many years after that."
Williams earned both her Associate of Science degree in December 2009 and her Associate of Arts degree in December 2010 from LSC-Kingwood. She focused on pre-nursing at LSC-Kingwood and then transferred to Texas Woman's University in the Medical Center where she is working on her Bachelor of Science degree in Nursing.
---
Register now for credit classes online through myLoneStar. Classes are offered days, evenings, or weekends in traditional, Internet, video, TV and independent study formats. For more information on how to register online, visit www.lonestar.edu/registration.
For general information about Lone Star College-Kingwood, call 281.312.1600 or visit http://lonestar.edu/kingwood.htm
With 75,000 students in credit classes and a total enrollment of more than 90,000, Lone Star College System is the largest institution of higher education in the Houston area, and the fastest-growing community college system in Texas. Dr. Richard Carpenter is the chancellor of LSCS, which consists of six colleges including LSC-CyFair, LSC-Kingwood, LSC-Montgomery, LSC-North Harris, LSC-Tomball and LSC-University Park, five centers, LSC-University Center at Montgomery, LSC-University Center at University Park, Lone Star Corporate College, and LSC-Online. To learn more visit LoneStar.edu.