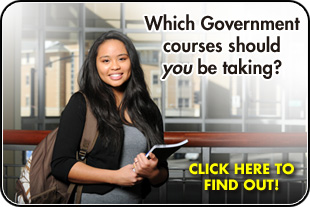 Lone Star College-CyFair will offer new government classes to satisfy recent changes to state core course requirements.
As a result of recent legislation, all Texas colleges and universities must offer two new government courses, GOVT 2305 (Federal Government) and GOVT 2306 (Texas Government).

"Starting in the fall of 2013, Texas colleges and universities will no longer offer GOVT 2301 and GOVT 2302," said Dean of Social Sciences and Advanced Technology Jo Fey. "The only core government courses required for degree-seeking Texas graduates will be GOVT 2305 and GOVT 2306. Transferability of these new courses will be guaranteed between public colleges and universities within Texas."
Below are the new guidelines for required government courses:
• Students who have already completed both GOVT 2301 and GOVT 2302 have satisfied the core course requirements, and no additional government classes are required.
• Students who have completed only GOVT 2301 should now enroll in either GOVT 2302, or GOVT 2305, or GOVT 2306. The combination of GOVT 2301 and any one of the other government courses will satisfy the new requirements.
• Students who have completed only GOVT 2302 and have not yet registered for GOVT 2301 should visit with an advisor now.
Students with questions who register at LSC-CyFair may contact Alexander Hogan at 281.290.3246 or Dean Fey at 281.290.5215. Students who register at LSC-Fairbanks Center may contact Sophia Mrouri at 832.782.5116 or Glenda Arnold at 832.782.5012.
For further information, go to LoneStar.edu/government-dept-cyfair.