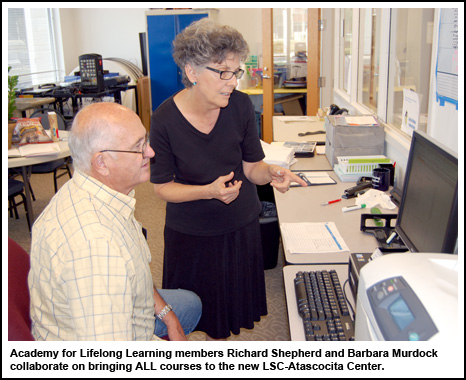 After receiving a green light, Academy for Lifelong Learning members worked tirelessly to bring their programs to the new Lone Star College-Atascocita Center.
Starting fall 2012, the center will house ALL courses comprised of arts, culinary, fitness, healthcare, history, legal, politics and more.
"These ALL classes will give adults in Summerwood, Lakeshore, Waters Edge, Summer Lake Ranch, etc. an educational setting to make more friendships and help us connect as a whole new Northeast community-not just a subdivision, section or street," said Barbara Murdock, Waters Edge resident and ALL member.
Classes held this fall includes Asian Cooking; Calligraphy; Dementia 101; Diabetes; Estate Planning; Family Values; Media Bias; Probate; Tao-Te-Ching; Texas History: The Alamo, Goliad Massacre, and the Battle of San Jacinto; U.S. Military: Activities in Iraq and Afghanistan; and Will Medicare and Medicaid Help? The courses will be held a few days a week in the afternoons from Sept. 4 to Nov. 16.
"My husband and I feel fortunate that these classes will soon be offered at the beautiful new Lone Star College-Atascocita Center so near to our home. We will both be participating in several of the ALL classes in the coming fall semester," said Barbara Probandt, Summerwood resident and ALL member.
With budgets tight, the members had to pull their resources together to implement this project. In doing so, residents from the area contacted various instructors, created Excel spreadsheets for class schedules, read class descriptions, proofed and prepared items to be published and some even volunteered to be unpaid instructors.
"We learned it takes a lot of effort to start up a new program at a new campus, but thanks to volunteers who are committed to education, we had people who knew how to pull it off," Murdock said.
LSC-Kingwood's ALL program began in February 2004 at the East Montgomery County Improvement District (EMCID) in New Caney. In just eight years, the program has grown to more than 1,000 active members. Annual membership is $20 from Sept. 1-Aug. 31 and all courses are taught by volunteers. While all classes are free with membership, some may require nominal event, supplies or entrance fees.
"I spent my entire professional life taking classes that enhanced my career in the field of education. I have always enjoyed learning and now after retirement, I want to take every opportunity to continue to explore new interests by taking a variety of classes for pure enjoyment," Probandt said.
According to Murdock, she looked forward to taking ALL classes once she turned 50 but dreaded the drive. After commuting 20 miles from her home in West Houston to LSC-CyFair and again from her new home in Waters Edge to the East Montgomery County Improvement District, Murdock and her husband are excited to take classes that are closer to home.
"My hubby and I love this area and would have been here sooner but our work commute to the west-side energy complex kept us there. We left 30 years of friendships behind when we moved here and are just getting to know people around us," she said. "These Atascocita classes will give us a chance to learn and meet neighbors that we don't know yet."
For more information on courses offered at LSC-Atascocita Center or on the ALL program at LSC-Kingwood, call 281-312-1750 or 281-312-1749. Information is also online at http://www.lonestar.edu/all-kingwood.htmor email kwall@lonestar.edu.
---
Register now for credit classes online through myLoneStar. Classes are offered days, evenings, or weekends in traditional, Internet, video, TV and independent study formats. For more information on how to register online, visit www.lonestar.edu/registration.
For general information about Lone Star College-Kingwood, call 281.312.1600 or visit http://lonestar.edu/kingwood.htm
With 75,000 students in credit classes and a total enrollment of more than 90,000, Lone Star College System is the largest institution of higher education in the Houston area, and the fastest-growing community college system in Texas. Dr. Richard Carpenter is the chancellor of LSCS, which consists of six colleges including LSC-CyFair, LSC-Kingwood, LSC-Montgomery, LSC-North Harris, LSC-Tomball and LSC-University Park, five centers, LSC-University Center at Montgomery, LSC-University Center at University Park, Lone Star Corporate College, and LSC-Online. To learn more visit LoneStar.edu.