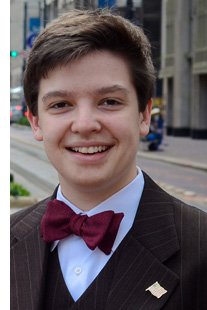 The path to success is not only different for everyone, but changes along the way as Micah Petersen, a home-schooled and Lone Star College-CyFair dual credit student, discovered this May.
For more than 8 years, Petersen wanted to attend and play basketball as a point guard, despite not having the height, at Duke University. He would even paint himself blue for North Carolina basketball games.
"This was a goal forever and one that pushed me academically, physically and mentally," said Petersen, who was home-schooled since the second-grade. "When applying for colleges, it's sometimes hard to convey how rigorous home-school curriculum is so community college courses were a tangible like SAT scores."
Petersen began taking dual credit courses at LSC-CyFair as a junior to enhance his college applications. He said the college faculty care about their students and he is still close with several of his instructors.
Last year was also a time when new opportunities opened doors to different options for Petersen. He was one of two chosen from 900 participants at Boys State, a leadership and citizenship program, to attend Boys Nation.
"Both programs are run by the American Legion," he said. "Attending these legacy-filled programs gave me the inspiration to apply to West Point."
With an open mind and a goal of finding a college that would prepare him for a career in intelligence work and to eventually run for state or national office, Petersen applied to 17 colleges, which included the prestigious United States Military Academy West Point.
He was accepted into several universities. The first was in January at the University of Delaware with an invite to the Distinguished Scholars weekend, which could lead to a full-ride Eugene DuPont scholarship, an honor for approximately 30 students a year.
However in February, Petersen received the call about his appointment to West Point which he didn't hesitate to accept. He then attended the Distinguished Scholars weekend "as a mere safety precaution" and three days after his return was notified he had earned the full-ride DuPont scholarship.
All set on the military school route, Petersen and his mother made a mid-April visit back to West Point, but also took a detour with another visit to Delaware.
"I started thinking about it and realized I hadn't consulted with mentors or prayed about it," said Petersen, now wondering if he was blinded by West Point's prestige. "I had to balance do I want to be one of 1,000 cadets and this brotherhood of lifetime … or one where I'm put in a position of leadership and work closely with mentors who want to guide me through school and after?"
Petersen also said he talked to more than 20 people, such as his coach, mentor, boss, teachers, family and friends, military officers and one who went to the University of Delaware, taught at West Point and now works for the CIA.
After careful consideration, and remembering his mother's words that "every decision has consequences, so you have choices," Petersen made his decision. He said he knows he would have succeeded at West Point, but he has the motivation, drive and desire to be his own pioneer on the path to success.
In a college recommendation letter, Petersen's LSC-CyFair pre-calculus and calculus professor Chinyoung Bergbauer, wrote "He would be a great leader … I truly believe he will succeed in anything he puts his mind to and I recommend him without reserve."
So this fall, Petersen will attend the University of Delaware as a DuPont scholar, voluntarily be involved with ROTC while pursuing a double major in political science and mandarin with a minor in math and hopefully, he said, be part of the basketball team, too.
For information on LSC-CyFair dual credit, go to LoneStar.edu/jumpstart-cyfair.