Enhances Learning, Saves Time and Money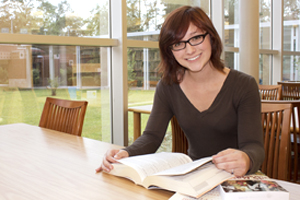 Lone Star College-Montgomery student Savannah Kellum mastered the skills of reading and writing in one combined developmental English course this past spring. The integrated course accelerates students like Kellum through the developmental sequence, saving them time, tuition, and other related expenses.
CONROE (July 11, 2012) – Did you read that 'write'? Lone Star College-Montgomery has combined developmental
reading
and developmental
writing
in a two-for-one course that accelerates students though the developmental sequence, saving them time—and money.
Beginning this fall, any student whose test scores place him/her in developmental English will enroll in Integrated Reading & Writing I (ENGL 0302) or Advanced Developmental Reading & Writing (ENGL 0309). Depending on the student's individual placement level, this could save up to two semesters of time, up to $512 in tuition, up to $160 in textbook costs, and any associated transportation expenses.
The combined course will help students master the skills of vocabulary and mechanics, read and write effective sentences, analyze and evaluate information, and understand the process of composition.
"I would definitely recommend this course to any of my friends coming into college," said Savannah Kellum, an LSC-Montgomery student who completed the ENGL 0309 pilot course this past spring. "I loved it and thought it was very helpful."
Kellum, who is from Montgomery, earned her GED and hopes to become an English teacher.
"I've had two teachers in my whole grade school experience that actually wanted me to succeed, and I want to be that kind of teacher," she said.
LSC-Montgomery began developing the integrated course in 2010 as part of the $1.5 million developmental education grant received from the Texas Higher Education Coordinating Board. The grant provided funding for full-time developmental English faculty, on-site professional development, lab software, and graduate coursework for faculty.
"We are leading the state and nation as we integrate our reading and writing courses," said Dr. Barbara Buchanan, academic dean of the behavioral sciences, English, languages, and speech division at LSC-Montgomery. "Success and retention rates increase when students can advance quickly and begin their credit coursework in a shorter time."
According to Buchanan, initial data from the pilot program shows students are more likely to pass the integrated course than students taking developmental reading and writing separately.
"Reading and writing are a natural pair," said Dr. Lana Myers, associate professor of English at LSC-Montgomery. "Pre-writing requires reading for ideas; analyzing text requires writing. Research shows that this combination has potential to contribute in powerful ways to thinking."
Myers, along with Dr. Lori Hughes, professor of English at LSC-Montgomery, presented an overview of the successful pilot program at the 2011 College Academic Support Programs Conference and were selected as the "Best Concurrent Session" by conference attendees. They've been invited to present at the 2012 College Reading and Learning Associations conference in November.
"A lot of colleges presented at the academic support programs conference, but it was awesome to know what we're doing here at LSC-Montgomery is being noticed," said Hughes. "We're taking great measures to motivate, energize, and equip the students in the developmental sequence."
LSC-Montgomery encourages students to meet with an advisor to determine their appropriate course plan. Advising and registration services are located in the Student Services Center (Building C), which is open Monday-Thursday, 7 a.m.-7 p.m., and Friday-Saturday, 9 a.m.-1p.m.
For more information, visit LoneStar.edu/student-services, or contact the office of student services at 936.273.7236 or
mc.advising@lonestar.edu
.
LSC-Montgomery is located at 3200 College Park Drive, one-half mile west of Interstate 45, between Conroe and The Woodlands. For more information about the college, call 936.273.7000, or visit LoneStar.edu/montgomery.
With 75,000 students in credit classes, and a total enrollment of more than 90,000, Lone Star College System is the largest institution of higher education in the Houston area, and the fastest-growing community college system in Texas. Dr. Richard Carpenter is the chancellor of LSCS, which consists of six colleges including LSC-CyFair, LSC-Kingwood, LSC-Montgomery, LSC-North Harris, LSC-Tomball, and LSC-University Park, five centers, LSC-University Center at Montgomery, LSC-University Center at University Park, Lone Star Corporate College, and LSC-Online. To learn more visit LoneStar.edu.