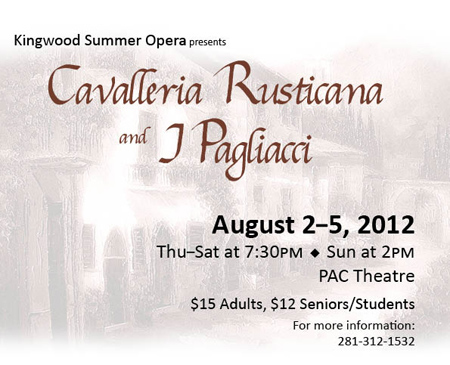 Music professionals, who have sung in the best opera houses around the world, will direct a talented cast at this year's Kingwood Summer Opera performance of "Cavalleria Rusticana" by Mascagni and "I Pagliacci" by Leoncavallo.
Traditionally performed together, these two short verismo operas will be performed at Lone Star College-Kingwood Aug. 2-4 at 7:30 p.m. and on Aug. 5 at 2 p.m. in the Performing Arts Center (PAC) Theatre.
"Cavalleria Rusticana" will be directed by Anne Heath-Welch, a LSC-Kingwood adjunct professor of music. She has sung lead roles in the United Kingdom and Europe for many years including London's famous Covent Garden Opera House. "I Pagliacci" will be directed by Gottfried Schiller, also an adjunct professor of music at LSC-Kingwood. Upon graduating from one of East Germany's premier music schools, Schiller performed with Radebeul Opera. After seven years, he joined the elite chorus of Komische Oper in Berlin where he sang for 28 years.
"These operas offer wonderful music and gripping dramas as they come out of the verismo tradition of late romantic Italian opera," Heath-Welch said. "The audience will be able to hear really amazing singers as the soloists and the chorus takes us to a drama-based reality of 19th century Calabria and Sicily. It will be a fantastic evening of opera!"
The chorus is made up of graduate students, community members and local professional singers. Both operas are fully double cast; there are two separate casts with covers for some of the principal characters. This year, the operas will be performed in their original language, Italian, but there will be surtitles for the audience.
Kingwood Summer Opera began in 1996 with a small number of students and community members performing a few short operatic scenes in the atrium of a classroom building at LSC-Kingwood. Today, there are more than 40 singers mounting two very professional operas in a newly renovated theater with a two-story set, complete lighting design, and more than 100 different costumes.
"It is a joy to see the growth of this program in numbers, quality, professionalism, and budget. This allows the students involved to experience an opera production in all its labor-intensive glory and it also allows the public to be entertained at a very high level," said Dr. Todd Miller, Summer Opera founder and LSC-Kingwood music professor.
Tickets to this year's Kingwood Summer Opera are $15 for adults and $12 for seniors and students. For more information or on ticket reservations, call the box office at 281-312-1532.
---
Register now for credit classes online through myLoneStar. Classes are offered days, evenings, or weekends in traditional, Internet, video, TV and independent study formats. For more information on how to register online, visit www.lonestar.edu/registration.
For general information about Lone Star College-Kingwood, call 281.312.1600 or visit http://lonestar.edu/kingwood.htm
With 75,000 students in credit classes and a total enrollment of more than 90,000, Lone Star College System is the largest institution of higher education in the Houston area, and the fastest-growing community college system in Texas. Dr. Richard Carpenter is the chancellor of LSCS, which consists of six colleges including LSC-CyFair, LSC-Kingwood, LSC-Montgomery, LSC-North Harris, LSC-Tomball and LSC-University Park, five centers, LSC-University Center at Montgomery, LSC-University Center at University Park, Lone Star Corporate College, and LSC-Online. To learn more visit LoneStar.edu.