Community invited to LSC-Kingwood to learn more
Lone Star College-Kingwood's Women's Center will host Dr. Stefano Sdringola, the principal investigator for the Century Health Study targeting innovation in the prevention and treatment of heart disease, on Aug. 1 in the Student-Conference Center at 12 p.m.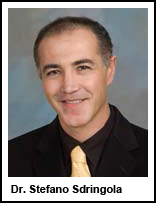 This program is open to both men and women in the community. Attendees will have the opportunity to be part of this landmark clinical trial that may benefit society by proving a more efficient, cost-effective way of diagnosing, preventing, and treating coronary heart disease. This may improve the care of other heart patients by helping them to attain a goal of a CENTURY of well-being. Pre-screening applications will be available at the presentation.
The Century Health Study is a cooperative effort between the University of Texas Medical School and Memorial Hermann Hospital to compare two strategies for treating heart disease. Eligible participants for this five-year study are at least 40 years of age and have been diagnosed with blockages in their heart (have had a heart attack, bypass surgery, a heart balloon procedure or stents to their heart) or have at least three risk factors for heart disease such as diabetes, high blood pressure, high cholesterol, smoking, strong family history of early heart disease or current blockages in the carotid arteries or legs.
People who meet the study's entry criteria will be administered a free treadmill test, will be scheduled for a P.E.T. scan and will join one of two groups: STARS or STRIPES. The STARS will continue with standard medical care and treatment and will be seen by the research study personnel once a year for the five years of the study as well as visit their own physicians. At each visit, they will have all vitals checked, have a physical exam, and see a dietician and a cardiologist. There is no charge to them and parking will be paid. Participants will receive a report for each visit. The STRIPES will visit the clinic at months one, two, four, eight, and 12 of the first year and then every six months thereafter. Participants in this group will have the same detailed tests and exams as the STARS group.
This program is meant to support the participants and not to substitute the care provided by their doctors. By participating in this study, they will receive free electrocardiograms, exercise treadmill stress tests, diet evaluation and consultation, clinic visits, state of the art P.E.T. Imaging scan and complete cholesterol profiles.
Sdringola is an associate professor and Weatherhead Chair of Cardiovascular Medicine at the University of Texas at Houston. His clinical focus is primary and secondary prevention of coronary artery disease, hyperlipidemia management, non-invasive management of stable coronary atherosclerosis stabilization and regression, acute coronary syndromes, interventional cardiology and nuclear cardiology.
The Student Conference Center is off of U.S. Highway 59. Take Kingwood Drive and go through the four-way stop sign. Take the first right on Woodpoint and the building is on the right. Parking is available in front of the building in lot A. LSC-Kingwood is located at 20000 Kingwood Drive. For more information, contact Diane Blanco at 281-318-4332 or Diane.K.Blanco@Lonestar.edu.
---
Register now for credit classes online through myLoneStar. Classes are offered days, evenings, or weekends in traditional, Internet, video, TV and independent study formats. For more information on how to register online, visit www.lonestar.edu/registration.
For general information about Lone Star College-Kingwood, call 281.312.1600 or visit http://lonestar.edu/kingwood.htm
With 75,000 students in credit classes and a total enrollment of more than 90,000, Lone Star College System is the largest institution of higher education in the Houston area, and the fastest-growing community college system in Texas. Dr. Richard Carpenter is the chancellor of LSCS, which consists of six colleges including LSC-CyFair, LSC-Kingwood, LSC-Montgomery, LSC-North Harris, LSC-Tomball and LSC-University Park, five centers, LSC-University Center at Montgomery, LSC-University Center at University Park, Lone Star Corporate College, and LSC-Online. To learn more visit LoneStar.edu.