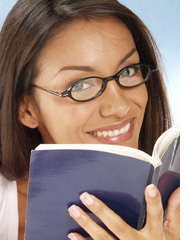 Stop by the "Voces Americanas: Latino Literature in the United States" library exhibition on display Sept. 13 through Oct. 15 as part of Hispanic Heritage Month at Lone Star College-CyFair.
"We are excited to have this traveling exhibition that features Latino authors who shed light on the American experience for Spanish-speaking people and many facets of Latino culture," said Mick Stafford, Harris County Public Library LSC-CyFair Branch Director of Library and Information Services.
Celebrating the works of Latinos from the past 30 years with highlights of authors, illustrations, books and movie stills, this traveling exhibition was made possible in part with a grant from Humanities Texas the state affiliate of the National Endowment for the Humanities.
Gain some personal insight into this exhibition and Latino history with Raul Reyes, LSC-Kingwood history professor, and Marina Tristán, Assistant Director of Arte Público Press, at an opening reception from 11:30 a.m. – 1 p.m. Wednesday, Sept. 19 in room 131.
During Hispanic Heritage Month, the library will also feature a "Don Quixote" exhibition coordinated by Jorge Enriquez featuring literature, sculptures and other related materials.
"We also have three Kids Corner programs available for children to learn more about the Latino culture including Preschool Story Time Sept. 19, Iguana y Tortuga Cool Kid Crafts Sept. 20 and the Tween Book Club's discussion of Pam Muñoz Ryan's "Esperanza Rising" Oct. 17," said Paula Gonzales, librarian.
In addition, LSC-CyFair will host a variety of other cultural activities open to all such as Street Poet Joaquin Zihuatanejo Sept. 21 mid-day at the Barker Cypress campus and the evening showing of "Man of La Mancha" Sept. 25 and Zumba by the Lake Sept. 27. A college-wide fiesta will also be held Oct. 2 at LSC-Fairbanks Center.
For information on the exhibitions on Kids Corner programs, go to LoneStar.edu/library/latinoexhibit. For information on other campus events, go to LoneStar.edu/cyfair.