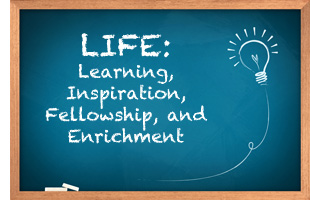 Learn about antiquing, senior citizens' impact on education, the flute, cell phone apps and movable books at the upcoming October workshops.
Lone Star College-CyFair's Learning, Inspiration, Fellowship, and Enrichment (L.I.F.E.) programs are free and held Wednesdays from 10 a.m. to 11 a.m. in the library (Room 131 unless otherwise noted) at 9191 Barker Cypress.
October 3 – Priceless Heirloom or Sentimental Curio?
What is an antique? What makes it valuable? Antiques dealer Vanessa Gerondale, will present the ins and outs of antiquing. Feel free to bring one of your favorite pieces for a quick valuation.


October 10 – Catching the Age Wave: Seniors as Partners in Education
Professor Catherine "Cat" O'Brien will lead a discussion of trends in public school education during the past 50 years and how senior citizens can make a difference in educating our youth. A joint ALL/LIFE program.


October 17 – Sweet Sounds of the Flute
Learn about all the different kinds and sizes of this versatile instrument. Listen to the "Sounds of Silver Flute Quartet." Professor John Wolfskill shares his knowledge and talent.


October 24 – My Cell Phone Can Do That for Free?
Go on an amazing electronic adventure in the palm of your hand with Reference Librarian Abraham Korah as you learn about iPhone, iPad and Android cell phone apps, some fun and some functional.


October 31 – Make Your Own Pop-Up Card
Author and paper engineer, Bruce Foster, reveals the mysteries of the movable book. Visit paperpops.com.
Call the library at 281.290.3214 for L.I.F.E. program information or go online to LoneStar.edu.