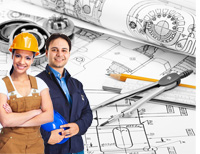 It's not too early to explore an engineering profession while in middle school and high school. Learn more about getting on the right path to an engineering career at the Lone Star College-CyFair Pre-Engineering Opportunity Fair Oct. 25.
Make plans now to meet with university engineering program advisors between 11:00 a.m. and 2:00 p.m. as well as attend the 12:00 - 1:00 p.m. or the 5:00 - 6:00 p.m. "Thinking about Engineering?" information sessions.
LSC-CyFair's Science and Engineering Student Club is sponsoring this community event in the Center for Academic and Student Affairs building on the LSC-CyFair campus at 9191 Barker Cypress.
For information on this event or the engineering department, go to LoneStar.edu/cyfair or call 281.290.3967.