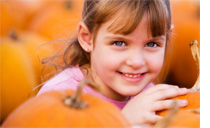 Join staff at Lone Star College-Fairbanks Center for the Annual Fall Festival from 6 p.m. to 8 p.m. Friday, Oct. 26 for a free, family fun evening.
This event offers a safe trick-or-treat alternative for children and families from LSC-Fairbanks Center and the surrounding communities as well as promotes activities that represent the diversity of different cultures in the community
"Come have fun in your favorite costumes for the 6:30 p.m. contest with special prizes," said Daniel Villanueva, event organizer. "Then stay for the moonwalks, festive games, delicious food, and of course, sweet treats for everyone."
The LSC-Fairbanks Center is located at 14955 Northwest Freeway near Beltway 8.
For event information, call 281.290.3442 or 832.782.5000.