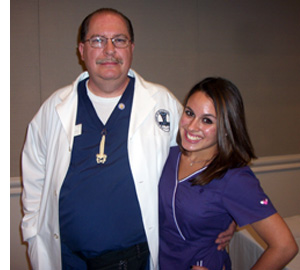 Kimberly Goble recently graduated from Lone Star College-CyFair's Massage Therapy Program with a goal of specializing in sports massage, but her college experience began with involvement in library and summer youth programs.
"Our family loves the Lone Star College System. When it first opened, we attended the open house and have been participating in programs ever since," said Mary Goble, Kimberly's mother. "When my children were younger, they enjoyed the library and participated in the book clubs."
However, she said her daughters' favorite activities were attending the Girl Scout Interest Project classes through the Discovery College program. Kimberly, who was homeschooled and working on her Gold Award at the time, agreed saying she liked learning from different teachers and about their passions.
"As they became more familiar with the campus and the professors, they felt right at home. While in high school, they had already decided to attend LSC-CyFair upon graduation," Mary said. "Being involved when they were younger, made the transition so easy."
Kimberly said LSC-CyFair was convenient, close to home and not as expensive as other colleges. Her sister Kristin earned an associate degree at LSC-CyFair and will graduate in December with her bachelor's in education through a University of Houston partnership. Her mother added that both daughters are graduating debt-free.
Kimberly also said with her interest in health, fitness, nutrition and helping others, she was drawn to the Massage Therapy Program.
"I like how you can fix things with massage and not have to use medicine and surgery," said Kimberly, who grew up dancing on a drill team. "People aren't aware of how massage can help improve what you do and to prevent injuries. I want people to know, like high school students, there are alternatives, so you don't end up in pain later in life."
In the yearlong Massage Therapy Program, Kimberly said her teacher was quite knowledgeable and the class was so small that her classmates felt like family. Together they learned about all types of massage, such as Swedish, deep tissue, hydro therapy, sports, chair and others.
"Kimberly, Kimmie to us, has been an enthusiastic and pleasant student to work with this year," said her instructor Geoff Ugent. "Kimmie wants to specialize in sports massage and work with athletes to help them perform better and avoid injury. I believe she has great potential in her new career in Massage Therapy."
Kimberly plans to have her own massage business one day, but in the meantime, she plans to earn her certification as a personal fitness trainer.
For information on LSC-CyFair, Discovery College or the Massage Therapy Program, go to LoneStar.edu.