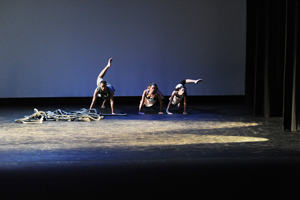 Lone Star College-Kingwood's Dance Student Showcase is on Nov. 9 at 7 p.m. in the Fitness and Training Center room 101.
HOUSTON (Nov. 2, 2012) – Lone Star College-Kingwood's Kinesiology and Dance department proudly presents its first Dance Student Showcase.
The evening will feature 14 dance works choreographed and performed by students. The event is on Friday, Nov. 9 at 7 p.m. in the college's Dance Studio located in the Fitness and Training Center room 101.
"The evening will include solo performances by third and fourth year Dance Performance students along with four short movement studies explored during the compositional unit of the class. In addition, members of the Dance Ensemble, a student club, will showcase group performances," said Amy Llanes, adjunct dance professor.
"Angry Birds", a dance performance choreographed by Aneisha Davis, was inspired by the famous Alfred Hitchcock movie, "The Birds". This piece involves a hunter killing a tribe of birds' leader.
"The message of this dance is that we as humans are controlled by a higher power and are forced to mimic it," Anastasia Bakhvalova said about her solo.
"…Til Death Do Us Part", choreographed by Anthony Davis, pays homage to the Holocaust. This dance performance will express the struggles many people went through in Europe during the early 1940s.
"With such a broad topic, I wanted to explore the relationship between a husband, his wife, and the surrounding community of Jewish citizens during the Holocaust," Davis said.
General admission to the Dance Student Showcase is $5. Funds raised from the event will go toward students attending the American College Dance Festival in March 2013. For more information, contact Amy Llanes at Amy.E.Llanes@LoneStar.edu.
Register now for credit classes online through myLoneStar. Classes are offered days, evenings, or weekends in traditional, Internet, video, TV and independent study formats. For more information on how to register online, visit www.lonestar.edu/registration.
For general information about Lone Star College-Kingwood, call 281.312.1600 or visit http://lonestar.edu/kingwood.htm
With 75,000 students in credit classes and a total enrollment of more than 90,000, Lone Star College System is the largest institution of higher education in the Houston area, and the fastest-growing community college system in Texas. Dr. Richard Carpenter is the chancellor of LSCS, which consists of six colleges including LSC-CyFair, LSC-Kingwood, LSC-Montgomery, LSC-North Harris, LSC-Tomball and LSC-University Park, five centers, LSC-University Center at Montgomery, LSC-University Center at University Park, Lone Star Corporate College, and LSC-Online. To learn more visit LoneStar.edu.