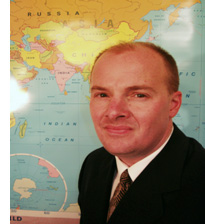 As Lone Star College-CyFair's Speaking of Business Speaker Series continues, don't miss "The Houston Economy and Its Relationship to the Oil Industry" presentation Nov. 28
Dr. Bruce Beaubouef is the Managing Editor of Offshore Magazine, a monthly trade periodical that covers the worldwide offshore oil and gas industry. He has more than 13 years of experience writing about the oil and gas industry,
Beaubouef's presentation will be held from 1 p.m. – 2:30 p.m. in the Center for Academic and Student Affairs building, CASA 110.
Light refreshments will be served, however space is limited.

The free Speaking of Business Speaker Series is designed to enhance the personal and professional development of future business and community leaders.
Sponsoring this series is LSC-CyFair's Business Department. For information, contact Ruben Howard, department chair, at 281.290.5233.