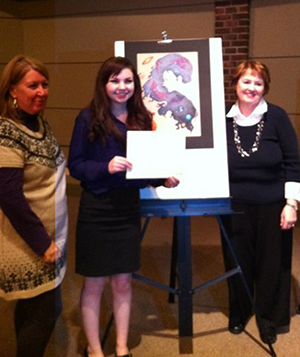 HOUSTON (Dec. 19, 2012) – Using life experiences without succumbing to society pressures allows Courtney Hardy to express her ideas through art.
"I have always loved art. Throughout my life, people have told me that studying art would not be a stable life path. For a time, I entertained and even pursued other avenues of study, but ultimately I feel the best I have to offer the world is art," Hardy said. "I feel that art is the medium that makes it easier for me to express ideas and feelings to other people."
A Lone Star College-Kingwood student, Hardy recently earned the 2012 Paul McCarty Art Scholarship from the Kingwood Art Society. The scholarship will be used to help pay for her tuition.
"I am honored and grateful to receive this scholarship. This will help me in more ways than one," she said.
The KAS Scholarship Committee selected Hardy's artwork at the college based on her originality. She presented her works to other KAS members at a recent meeting.
"The committee was impressed by Courtney's technical skills in different art mediums and her understanding of the principles of line, design and color," said Sheila Bridges, committee member. "Courtney is currently working on a Portrait Series. She has a love of nature and tries to incorporate this theme in many of her designs."
Hardy starting drawing when she was old enough to hold a pencil, but it wasn't until her sophomore year in high school when she realized how important art was to her future. She uses her senses from life experiences to create her pieces.
"When you pay attention and take note of the sounds, textures, and sights of something at any moment, however menial, it can become art," Hardy said. "The art I create consists heavily of psychological portraits. I like exploring the human condition and I feel a strong connection to other people. I want my work to be accessible to everyone and I think the human condition is something people relate to best."
Hardy started at LSC-Kingwood in spring 2012. She will complete her core courses and transfer to a four-year university to earn a bachelor's degree. Her ultimate goal is to earn a master's degree, a PhD and a teaching certificate. She plans to be either an art or English professor.
The Kingwood Arts Society meets every third Tuesday of the month at the Kingwood Country Club.
Social hour is at 6:30 p.m. and the meeting begins at 7 p.m. Guests are welcome to attend. For more information on KAS, visit http://kingwoodartsociety.com/.Register now for credit classes online through myLoneStar. Classes are offered days, evenings, or weekends in traditional, Internet, video, TV and independent study formats. For more information on how to register online, visit www.lonestar.edu/registration.
For general information about Lone Star College-Kingwood, call 281.312.1600 or visit http://lonestar.edu/kingwood.htm.
With 75,000 students in credit classes and a total enrollment of more than 90,000, Lone Star College System is the largest institution of higher education in the Houston area, and the fastest-growing community college system in Texas. Dr. Richard Carpenter is the chancellor of LSCS, which consists of six colleges including LSC-CyFair, LSC-Kingwood, LSC-Montgomery, LSC-North Harris, LSC-Tomball and LSC-University Park, five centers, LSC-University Center at Montgomery, LSC-University Center at University Park, Lone Star Corporate College, and LSC-Online. To learn more visit LoneStar.edu.