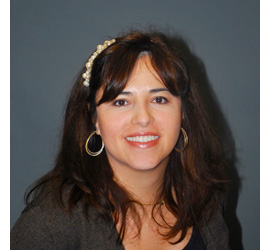 Join Maria Tapias of Lopez Negrete Communications as she shares tips on marketing to the Latino community to increase business success at a free Feb. 6 seminar at Lone Star College-CyFair.
Lopez Negrete Communications is the award-winning advertising agency to Wal-Mart Stores, MillerCoors and Kraft Foods. Tapias, the agency's Group Account Director, has more than 15 years of experience in advertising. She's worked across a wide spectrum of retail, consumer package goods and pharmaceuticals as well as in digital advertising. Tapias said she enjoys the fast pace of retail along with the challenge of upholding brand strategy.
Kicking off the spring Business Success Seminars series at LSC-CyFair, Tapias will share tips specifically for Hispanic marketing. "It's a world all its own, with different textures and tastes, rhythms and hues."
The seminar will be held from 8 a.m. to 9:15 a.m. in the library, room 131 on the Barker Cypress campus at 9191 Barker Cypress. Pre-registration is not required. There will be coffee, pastries, door prizes and an opportunity for businesses to share offerings and network.
LSC-CyFair's Small Business Development Center, the LSC-CyFair Branch Library and the Cy-Fair Houston Chamber of Commerce co-hosts the don't-miss information-packed seminar series, all of which are designed to help business owners and employees build a successful business.
Among the other topics for the spring series are QuickBooks Feb. 13; Social Media Marketing Feb. 20; Take Your Business on the Go with Mobile Apps Feb. 27and Fulfillment by Amazon March 6.
For information on Lopez Negrete Communications, go to www.lopeznegrete.com. For information on the spring Business Success Seminars series, go to LoneStar.edu/library/business-seminars or call 832.482.1057 or 281.290.3214.
About Lopez Negrete Communications
This award-winning agency uses their resources, experience, and understanding of the Hispanic consumer to create a highly effective, relevant and fully-integrated communication platform and programs, which translate into measurable ROI. For information, go to www.lopeznegrete.com.