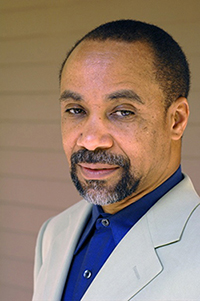 Experiencing life lessons through an influential author is part of the educational experience at Lone Star College-Kingwood.
During the college's Black History Month, the Office of Student Life is inviting the community to meet bestselling author, Nathan McCall on Friday, Feb. 8 at 1:30 p.m. in the Student-Conference Center (SCC). The writer will discuss his first book, "Makes Me Wanna Holler, A Young Black Man in America".
"We are extremely delighted to have Mr. McCall visit our campus and share his tumultuous journey with our students, staff, faculty and the community," said Dr. Darrin Rankin, vice president of Student Success. "I hope this discussion will encourage students to find a way to overcome their personal and unfortunate circumstances and achieve not only social success, but personal greatness that will lead them to make a real contribution to their community and to the world."
According to his bio, McCall became involved with drugs and went to prison at age 20. He turned his life around and has worked for "The Washington Post", published three books and is now a senior lecturer at Emory University in Atlanta. "Makes Me Wanna Holler A Young Black Man in America", was published in 1995 and is on the New York Times Best Seller List. This book earned McCall the Blackboard Book of the Year Award in 1995. In addition to this novel, he published "What's Going On" in 1997 and "Them" in 2007. He is currently working on his fourth book.
"In his book, Nathan McCall shares insight into lessons learned about racial prejudice and how it can affect people of any age, regardless of skin color. A few lessons shared are surprising and not what you might expect to hear. It's a great read and something young people should definitely take the time to read," said Tracie Ring, program manager of Student Life.
In addition to McCall, the community is also invited to the following events:
Guest speaker Dr. Daria Willis, history professor at LSC-University Park, on Feb. 6 at 6:30 p.m. in SCC.
Black Professionals Day Panel Discussion on Feb. 7 at 12:30 p.m. in SCC.
Greek Step Show on Feb. 7 at 7 p.m. in SCC. Doors open at 6:30 p.m.
For more information on LSC-Kingwood's Black History Month events, contact Tracie Ring, program manager of Student Life at 281-312-1794 or Tracie.L.Ring@LoneStar.edu.
Register now for credit classes online through myLoneStar. Classes are offered days, evenings, or weekends in traditional, Internet, video, TV and independent study formats. For more information on how to register online, visit www.lonestar.edu/registration.
For general information about Lone Star College-Kingwood, call 281.312.1600 or visit http://lonestar.edu/kingwood.htm.
With 75,000 students in credit classes and a total enrollment of more than 90,000, Lone Star College System is the largest institution of higher education in the Houston area, and the fastest-growing community college system in Texas. Dr. Richard Carpenter is the chancellor of LSCS, which consists of six colleges including LSC-CyFair, LSC-Kingwood, LSC-Montgomery, LSC-North Harris, LSC-Tomball and LSC-University Park, five centers, LSC-University Center at Montgomery, LSC-University Center at University Park, Lone Star Corporate College, and LSC-Online. To learn more visit LoneStar.edu.