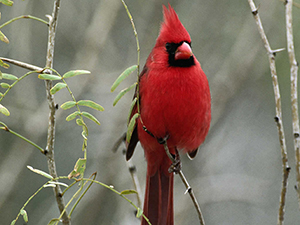 Bird lovers and watchers are invited to learn more at a birding talk on the Observation Deck of Lone Star College-Kingwood's Lowlands.
Guest speaker Gary Binderim will describe the basics of bird watching and the bird species that he has observed at the college. The talk will take place on Saturday, Jan. 26 at 10 a.m. The Lowlands are located at the corner of Sorters and Royston, across Evans Gully from the tennis courts. The Observation Deck is on Evans Gully Trail, a quarter mile from Sorters Road.
"This talk will help increase environmental awareness and introduce the group to some of the fun activities in which scientists and people that love outdoors can participate," Binderim said.
After his talk, Binderim will lead a short bird walk using his birding gear: scope and tripod, camera, binoculars, iPad, and field guides. Extra binoculars will be available, but people are encouraged to bring their own equipment.
Binderim has documented more than 100 bird species at the Central Kingwood Sewage Treatment Plant. He knows the college's Lowlands well since he lived in a house on what is now the site of the college's Learning Garden. The Lowlands have been designated a birding hot spot by Cornell University's international website, E-Bird, because of the number of sightings that have been recorded, many were reported by Bindermin.
In addition to this event, Damien Carey will hold his monthly bird walk in the Lowlands on Jan. 26 at 7:30 a.m. Walkers can meet the group at the Evans Gully Trailhead.
"Whether an experienced, novice, or a first time bird watcher, people are sure to enjoy an informative couple of hours," said David Burre, LSC-Kingwood sustainability coordinator.
For more information on both events, contact David Burre at David.L.Burre@LoneStar.edu.
Register now for credit classes online through myLoneStar. Classes are offered days, evenings, or weekends in traditional, Internet, video, TV and independent study formats. For more information on how to register online, visit www.lonestar.edu/registration.
For general information about Lone Star College-Kingwood, call 281.312.1600 or visit http://lonestar.edu/kingwood.htm.
With 75,000 students in credit classes and a total enrollment of more than 90,000, Lone Star College System is the largest institution of higher education in the Houston area, and the fastest-growing community college system in Texas. Dr. Richard Carpenter is the chancellor of LSCS, which consists of six colleges including LSC-CyFair, LSC-Kingwood, LSC-Montgomery, LSC-North Harris, LSC-Tomball and LSC-University Park, five centers, LSC-University Center at Montgomery, LSC-University Center at University Park, Lone Star Corporate College, and LSC-Online. To learn more visit LoneStar.edu.