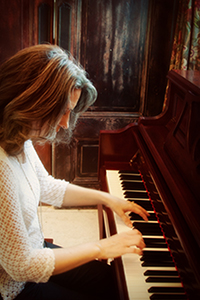 Classical music and jazz aficionados are in for a treat at Lone Star College-Kingwood's first Piano Recital Series concert for spring 2013.
The community is invited to hear the Pamela York Trio perform on Friday, Feb. 1 at 7:30 p.m. in the college's Music Instructional Building Recital Hall. The well-known trio consists of York, piano; Anthony Caceres, bass; and Sebastian Whittaker, drums.
"This concert will pair York, a well-known Kingwood artist, with the college's Yamaha CFX piano. It is the first true jazz concert in the Piano Recital Series, but it certainly will not be the last," said Jay Whatley, music professor at LSC-Kingwood.
The Pamela York Trio will play works from their latest CD, "Lay Down This World: Hymns and Spirituals"; the spirituals were arranged by York. They will also play several of her original works, and favorites/standards from the Great American Songbook by Gershwin and Cole Porter.
"Many audience members will be long-time fans of Pamela York's music; my hope is that we can introduce her music to new enthusiasts," Whatley said. "Even if a patron attended all of the other concerts in the Piano Recital Series, they would never hear anything like what the trio has to offer."
According to her bio, York's love of music started with her grandmother's piano. The powerful sound of an aging British upright piano changed the life of a wide-eyed 8-year-old, especially after her parents surprised her with a piano of her own. Classical piano training commenced and by age 15, York was playing local gigs. She earned an associate's degree in Piano Performance from the prestigious Royal Conservatory of Music in Toronto. She then utilized her grant from the Canada Council for the Arts to study jazz at Berklee College of Music in Boston. She graduated with her bachelor's degree in 1991 and earned a master's degree from University of Tennessee, Knoxville in 1995. In 2000, the jazz artist debut her first album, "Blue York" and in 2006, released her second album, "The Way of Time". For more information on York, visit http://karionpresskits.com/pamelayork/index.html.
Caceres' passion for music developed from his lineage. According to his bio, his grandfather was a major swing violinist who worked with legendary greats and led his own Latin orchestra, while his great uncle played solos on a baritone saxophone and clarinet with the original Glenn Miller Orchestra. Since his father and brother played saxophone, Caceres began playing alto when he was in middle school. He switched to electric bass to join a friend's rock band while in high school and later focused more on acoustic bass. After serving in the Navy, he attended San Antonio Community College, playing with their jazz band, a Latin jazz group, and a trio at a local French restaurant. Caceres enrolled at the University of North Texas and graduated with a Bachelor's Degree in Jazz Studies in 2003. After college, Caceres performed with the Glenn Miller Orchestra for two years. In 2007, Caceres formed his own group and they released their album, "Don't Call It Love". For more information on Caceres, visit http://www.anthonycaceres.com/about.
The study of jazz forefathers has been a lifelong pursuit for Whittaker. According to his bio, he was blinded at the age of one by retinal cancer and began playing the drums at age three. After attending Houston's High School for the Performing and Visual Arts, Whittaker continued his musical studies at the University of Texas and at William Patterson College in New Jersey. Besides drums, Whittaker made it a point to acquire a working knowledge of piano and pursued his interest in composing. During his career, he has performed with many jazz greats, including the late great Joe Henderson and the astounding Freddie Hubbard. After many recordings with Justice Records, Whittaker established his record label, UpFront Music, and released his album, "Moving On And Upward". For more information on Whittaker, visit http://www.upfrontmanaging.com/bio.html.
LSC-Kingwood's Piano Recital Series started in fall 2012 with an internationally-acclaimed Canadian ragtime pianist, Mimi Blais, and two nationally-known high school pianists, Chung Hon (Michael) Cheng and Patrick Pan. The series will continue during spring 2013 with the Pamela York Trio, Feb. 1; and Kenneth Broberg, a University of Houston student pianist, on Feb. 26. The season will end with Frederic Chiu, an established Yamaha artist who will present a recital on April 11. This performance will be the piano event of the year in the greater Houston area. "Including the Pamela York Trio provides a sense of symmetry and balance to this year's recital series," Whatley said.
General admission to the Pamela York Trio concert is $15. After the concert, the trio will sell copies of their latest CD. For more information or to reserve tickets, contact Angie Spargur at 281-312-1709 or Angie.Spargur@LoneStar.edu.
With 75,000 students in credit classes and a total enrollment of more than 90,000, Lone Star College System is the largest institution of higher education in the Houston area, and the fastest-growing community college system in Texas. Dr. Richard Carpenter is the chancellor of LSCS, which consists of six colleges including LSC-CyFair, LSC-Kingwood, LSC-Montgomery, LSC-North Harris, LSC-Tomball and LSC-University Park, five centers, LSC-University Center at Montgomery, LSC-University Center at University Park, Lone Star Corporate College, and LSC-Online. To learn more visit LoneStar.edu.