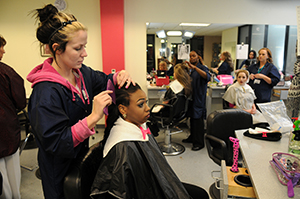 Lone Star College-Kingwood offers a variety of hands-on programs that allow students to learn about their chosen field in a classroom as well as in a real-world scenario.
In the LSC-Kingwood Cosmetology and Facial Department, students learn and refine their skills by providing services such as facials, manicures, and hair-styling for college employees and community members.
"The Cosmetology and Facial programs fully prepare students to meet the requirements to take licensing exams for the state of Texas," said Audrey Williams, facial adjunct professor.
The programs are looking for students who would like to explore a career in the cosmetology or facial field. Information sessions for the spring semester will be held on Feb. 4, March 4, April 8 and May 6 at 3:30 p.m. in CLA 102.
"These sessions are for prospective Cosmetology and Facial students to learn what the programs have to offer as well as admission requirements, hours, and attendance policies. Cosmetology and Facial faculty members and the Arts and Humanities division counselor will be available to answer questions," Williams said.
Students in the Cosmetology program learn how to care for hair, nails and skin. Once they acquire the skills and complete1500 clock hours, they are eligible to take the Texas Department of Licenses and Regulations written and practical operator exams. After they receive their license, Cosmetology students can work in salons or spas doing all aspects of cosmetology or choose to specialize in hair, nails or skin care. It takes three semesters to complete this program.
The Facial program is for students who are interested in working exclusively in skin care. Prior to taking the Texas Department of Licensing and Regulation written and practical Facial Specialist Exams, students must complete 750 clock hours of training. The licensed facial specialist may then go on to work in salons, spas or medical spas, performing facials or working as make-up artists. Students can complete the program in two semesters.
"By enrolling in these programs, students not only gain knowledge in the classroom, but also practical experience in the lab that will adequately prepare them to practice in their chosen fields," Williams said.
In addition to training students, community members can benefit from both programs for a low cost. The Cosmetology program offers a large variety of services and is open Tuesday through Friday from 9:30 a.m. to 2 p.m. Customers interested in chemical services should be checked-in prior to 11 a.m. The Facial program offers facials by appointment only on Tuesday, Wednesday and Thursday at either 9:30 a.m. or 12:30 p.m.
For more information on the Cosmetology or Facial programs along with customer pricing, call 281-312-1680 or 281-318-4327.
Register now for credit classes online through myLoneStar. Classes are offered days, evenings, or weekends in traditional, Internet, video, TV and independent study formats. For more information on how to register online, visit www.lonestar.edu/registration.
For general information about Lone Star College-Kingwood, call 281.312.1600 or visit http://lonestar.edu/kingwood.htm.
Wth 75,000 students in credit classes and a total enrollment of more than 90,000, Lone Star College System is the largest institution of higher education in the Houston area, and the fastest-growing community college system in Texas. Dr. Richard Carpenter is the chancellor of LSCS, which consists of six colleges including LSC-CyFair, LSC-Kingwood, LSC-Montgomery, LSC-North Harris, LSC-Tomball and LSC-University Park, five centers, LSC-University Center at Montgomery, LSC-University Center at University Park, Lone Star Corporate College, and LSC-Online. To learn more visit LoneStar.edu.