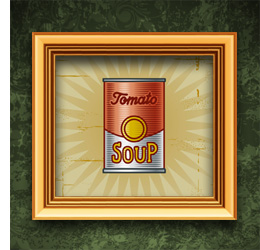 Lone Star College-CyFair's Art Society's Can-tastic Sculpture for Hunger Exhibition is a collaborative and interactive canned goods sculpture that will benefit the Houston Food Bank.
In this unique spring exhibition, the college's student Art Society is first attempting to recreate the house from Disney-Pixar's movie "Up" with donated canned goods collected across the campus, which will be donated to the Houston Food Bank when the exhibition closes.
"We hope viewers will be engaged to see how art can act as a positive influence in the community to help a great cause, especially one like hunger," said Renee Ciampi, professor of design and club sponsor.
Then in order to engage the community with this effort and to help develop the theme, gallery visitors can drop off canned goods as well use cans on hand to construct trees, fences and other neighborhood-type sculptures, said Ciampi. However, creativity to construct other kinds of sculptures not related to theme is also welcome.
"We just want to encourage people to have fun with the exhibition," said Ciampi. "We hope this interactive exhibition will raise awareness, while incorporating elements of fun, to inspire people to become actively involved in helping those who are less fortunate."
This sculpture exhibition will be on display in the Bosque Gallery Jan. 29 through Feb. 21.
An opening reception will be held from 4:30 p.m. to 6:30 p.m. Thursday, Feb. 14 in the lobby of the Center for the Arts on the Barker Cypress campus at 9191 Barker Cypress.
For Bosque Gallery hours and information, call 281.290.3401 or go online to LoneStar.edu/bosquegallery.