The Texas Association of Chicanos in Higher Education (TACHE) recently named Lone Star College-Montgomery's very own Norseman Hernandez as one of just three Distinguished Faculty Award recipients for 2013.
Hernandez is a professor of Spanish. He joined LSC-Montgomery five years ago and has been instrumental in taking the Spanish department to new heights.
"I've incorporated online teaching into the Spanish department when others said it could not be done," said Hernandez. "I try to use various methods that will make students love the Spanish language, as well as the culture behind it, including humor or taking creative risks with certain lessons."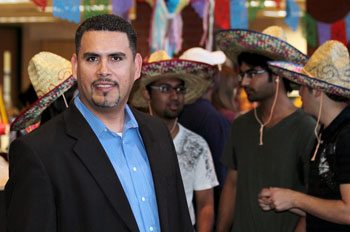 Norseman Hernandez, Spanish professor at LSC-Montgomery, was recently named one of three Distinguished Faculty by the Texas Association of Chicanos in Higher Education. Hernandez encourages his Latino students to engage in community activities, such as the college's annual Fiesta Latina.
Hernandez was raised in Honduras by his grandmother, who was a teacher. In his TACHE acceptance speech, Hernandez recalls her travelling over the mountains of Siguatepeque, Honduras, by foot to teach in a village whose only classroom was without electricity, running water, desks, chairs, or a blackboard.
"It gave her students a chance in life," said Hernandez. "When I was able to understand her missionary work, I would see students come up to her after many years and acknowledge their debt to her. To me, those were priceless moments that I proudly carry with me in every classroom and in my life."
Hernandez nurtures his heritage by encouraging his Latino students to be engaged not only in the classroom, but also in community activities. Alongside his students, he actively promotes the Latino culture in LSC-Montgomery's annual Fiesta Latina, Spanish Club, and weekly Spanish conversations.
Hernandez came to Texas from California, where he taught at Riverside Community College, San Bernardino Valley College, and California State University.
TACHE recognizes outstanding achievements, contributions superior levels of professionalism and accomplishments in higher education in the areas of teaching, research, or service. The nonprofit professional association is committed to the improvement of educational and employment opportunities for Hispanics in higher education.
LSC-Montgomery is located at 3200 College Park Drive, one-half mile west of Interstate 45, between Conroe and The Woodlands. For more information about the college, call 936.273.7000, or visit www.LoneStar.edu/montgomery.
With 78,000 students in credit classes, and a total enrollment of more than 90,000, Lone Star College System is the largest institution of higher education in the Houston area and the fastest-growing community college system in the nation. Dr. Richard Carpenter is the chancellor of LSCS, which consists of six colleges including LSC-CyFair, LSC-Kingwood, LSC-Montgomery, LSC-North Harris, LSC-Tomball and LSC-University Park, five centers, LSC-University Center at Montgomery, LSC-University Center at University Park, Lone Star Corporate College, and LSC-Online. To learn more visit LoneStar.edu.