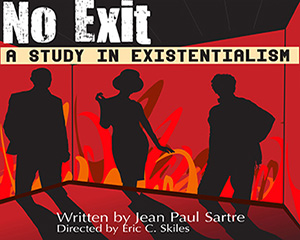 Contemplating the meaning of life and what happens after death will be explored in Lone Star College-Kingwood's first spring production.
"No Exit", a famous existentialist play by the French playwright Jean Paul Sarte, explores the meaning of human existence and searches for a deeper meaning to the afterlife-specifically "hell". This production will take place Feb. 21-23 at 7:30 p.m. and on Feb. 23-24 at 2 p.m. in the college's Performing Arts Center Main Stage.
"Sarte determined, through writing this play, that his interpretation of hell is 'other people you cannot escape from'," said Eric Skiles, artistic director of theatre and drama professor at LSC-Kingwood. "We are excited to present this classic work for the first time on campus."
The main characters in "No Exit" are Garcin, an 18th century soldier; Estelle, a 20's socialite; and Inez, a 70's earth mother. The trio is aided in their exploration by the Valet, a mysterious male figure who ushers them into their surroundings. The cast will be comprised entirely of LSC-Kingwood students.
"This play is widely produced in the Education Theatre arena. Its subject matter is universal, and its moral tone is long-lasting. It has moments of humor mixed with intense drama," Skiles said. "This production was chosen as a high-quality piece of dramatic literature that can play in less than 80 minutes and will travel easily to other locations."
After its run at LSC-Kingwood, "No Exit" will travel to LSC-Tomball to be entered in the 2013 Play Festival sponsored by the Texas Community College Speech and Theatre Association. TCCSTA is the accrediting body for two-year theatre programs. Each student actor and technical crew member will be eligible for individual awards at the festival.
Tickets can be reserved or purchased at the LSC-Kingwood Box Office. The cost is $12 for general admission, $10 for senior citizens and $5 for students. For more information, call 281-312-1532.
Register now for credit classes online through myLoneStar. Classes are offered days, evenings, or weekends in traditional, Internet, video, TV and independent study formats. For more information on how to register online, visit www.lonestar.edu/registration.
For general information about Lone Star College-Kingwood, call 281.312.1600 or visit http://lonestar.edu/kingwood.htm.
With 75,000 students in credit classes and a total enrollment of more than 90,000, Lone Star College System is the largest institution of higher education in the Houston area, and the fastest-growing community college system in Texas. Dr. Richard Carpenter is the chancellor of LSCS, which consists of six colleges including LSC-CyFair, LSC-Kingwood, LSC-Montgomery, LSC-North Harris, LSC-Tomball and LSC-University Park, five centers, LSC-University Center at Montgomery, LSC-University Center at University Park, Lone Star Corporate College, and LSC-Online. To learn more visit LoneStar.edu.