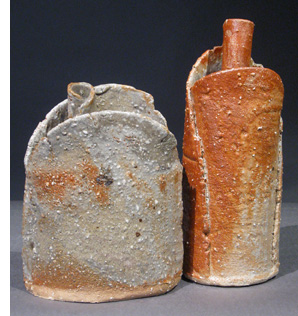 Lone Star College-CyFair's Bosque Gallery features a unique ceramics collection on display March 19 – April 4.
This "Cone 6: Sustainable Ceramic Practices at LSC-CyFair" exhibition is concurrent with the National Council on Education for the Ceramic Arts (NCECA) Conference taking place March 20 – March 23 at Houston's George R. Brown Convention Center.
Among the participating artists in the LSC-CyFair exhibition are Suzanne Shield-Polk, Glenn Edwards, Malinda Wright, Steven Frederick, Nancy Liebes and Lou Higdon as well as LSC-CyFair students.
This exhibition features a collection of work which showcases exemplary samples of traditional reduction glazes and firing approaches fired at cone 6 (a level which accounts for time as well as temperature in the kilns.) Rich Kaki, strong copper red, Shino over stoneware with feldspar inclusions, mid-range sagger, Oribe and Temoku are all represented.
"When LSC-CyFair opened in 2003, the vision of the campus founders included a focus on sustainable practices and design when planning the instructional philosophy and campus architecture," said Shield-Polk, LSC-CyFair ceramics art faculty. "The ceramics department embraced that focus and set about adapting ceramics studio practices to reach that goal without sacrificing traditional gas-fired ceramic aesthetics. To do so required adjusting our firing temperature from around 2350 degrees to 2260 degrees Fahrenheit, resulting in a significant decrease in both fuel usage and production of carbon emissions."
An opening reception with the artists will be held from 4 p.m. – 6 p.m. Tuesday, March 19 in the Center for the Arts building at 9191 Barker Cypress. Gallery hours, extended for this exhibition, will be from 11 a.m. – 6 pm. March 19 - March 21 as well as 11 a.m. – 2 p.m. Tuesdays –Thursdays and 3 p.m. – 6 p.m. Wednesdays March 26 – April 4.
For Bosque Gallery information, visit LoneStar.edu/bosquegallery or call 281.290.3445.
For NCECA conference information, visit nceca.net/static/conference_home.php.