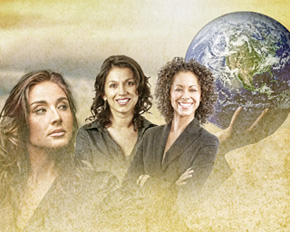 Lone Star College-CyFair will celebrate "Women in Power" with the annual Women's Month featuring activities from a suit drive to speaker presentations throughout March.
The college's annual celebration begins with a suit drive benefitting Dress For Success® Houston (DFSH) March 4 through March 8. The college's Counseling, Career and Disability Services Department has teamed again with this non-profit organization, which provides interview-appropriate suits and career development to aid low-income women entering the workforce.
Among other events open to the community are sessions with a make-up artist to help with "Dressing for Interview", an information fair, a "Cone 6: Sustainable Ceramic Practices at Lone Star College-CyFair" art gallery exhibition and an author presentation with Dr. John Matteson on his book "The Lives of Margaret Fuller."
The month of events concludes with special guest Mayor Annise Parker and her March 26 "From Dreams to Reality" presentation, which will be held at 7 p.m. in LSC-CyFair's Main Stage Theatre. A question and answer session will follow.
Sponsoring this annual celebration are LSC-CyFair's Windows on the World and Student Life.
For more information, contact event co-chairs Brenda Rivera at Brenda.A.Rivera@LoneStar.edu or Rebecca Stasney at Rebecca.A.Stasney@lonestar.edu or go to LoneStar.edu/womensmonth-cyfair.