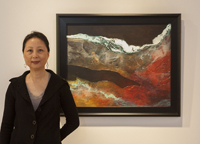 March 12 - April 5, Lone Star College-Tomball's art gallery will feature the work of one of its own, art student Wendy C. Lam. Her exhibit- a study on the harmony between air, water and earth—is free and open to the public Monday through Friday from 9:30 a.m. to 4:30 p.m.
Lam feels abstract forms, poetry and painting share an origin of beauty, allowing an artist the freedom to reprocess the natural world. Using acrylic paint, modeling paste, gross gel and other mediums to create texture, depth, shadows and light on canvas, she interprets the spirituality of nature as a reflection of the human form and an artist's emotions.
Her work has been exhibited in the National Taiwan Museum of Fine Arts, Taipei Fine Arts Museum, galleries in Tainan and Kaohsiung (Taiwan), Chinese Culture Center (Houston), and Lone Star College-Tomball art gallery.
Developing a passion for art, music and literature at an early age, Lam entered the National Taiwan University of the Arts, majoring in figure sculpture. She came to the United States to further her education, after which she spent the next 20 years as a senior systems analyst before retiring. Today, she continues to pursue her passion for art, studying under LSC-Tomball art program coordinator Earl Staley.
The gallery is next to the Beckendorf Conference Center, located at 30555 Tomball Parkway (off State Highway 249 and Zion Road). For more information contact Steffani Frideres at 281.401.1808 or steffani.a.frideres@lonestar.edu.