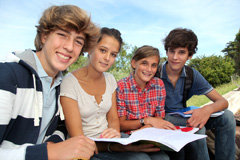 Registration for Lone Star College-CyFair's Discovery College summer youth program, with the theme of "Integrated Learning," is now under way.
LSC-CyFair offers Discovery College for ages 9 to 14 as half-day sessions from 8 a.m. to noon and 1 p.m. to 5 p.m. Monday through Thursday from June 10 through Aug. 8.
In addition to academic courses such as science, technology, engineering, math and fine arts, we offer AutoCAD, Robotics, Digital Photography, GLEE, Survivor, Young Entrepreneurs, Judge and Jury and Secrets of Mental Math, just to name a few.
"Our Discovery College sessions are fun and educational providing children an opportunity to develop skills and learn new ones in a friendly environment," said Kenya White, director of Continuing Education. "Our goal is to promote a true and holistic learning experience for all students."
The cost of the week-long sessions is $89 per class with all sessions held at the Barker Cypress campus at 9191 Barker Cypress.
Spaces fill up fast so register now in the Center for Academic and Student Affairs (CASA) building in the Student Services area or the Continuing Education office, CASA 116.
For information, go to LoneStar.edu/youth-classes-cyfair.