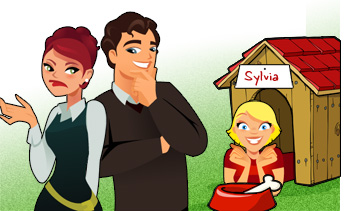 Join the Lone Star College-CyFair Performance Troupe for their spring scholarship fund-raising performances of the romantic comedy "Sylvia."
"Sylvia" is a play about a dog, the couple who adopts her and the drama that results. Greg bonds with Sylvia, a dog played by a human, he found in the park and brought back to the empty nest he shares with his wife, Kate, who is less than thrilled to have a dog at this stage in their lives. Sylvia becomes a major bone of contention between husband and wife. This is a romantic comedy about a marriage and a dog - man's best friend … his wife's worst nightmare.
This show is for mature audiences only due to strong language.
Performances will be held at 7:30 p.m. Friday, April 19 and Saturday, April 20 in the Recital Hall in the Center for the Arts building at 9191 Barker Cypress.
Available only at the door the day of performances, tickets are $5 or get the "bring-a-friend" rate of $3 each for groups of three or more. All ticket proceeds go toward student scholarships.
For performance information, email Donna.J.Kroll@LoneStar.edu.
The Performance Troupe is a student-funded club promoting the theatre arts. The club's primary responsibility is to provide students with an interest in the arts an opportunity to discuss their love of theatre and take part in all aspects of theatre production and management. Go to LoneStar.edu/cyfair-drama-club for information.