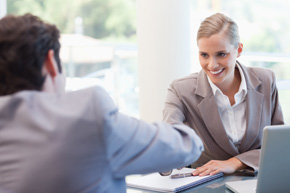 In response to a growing need for qualified part-time (adjunct) instructors in more than 50 disciplines, Lone Star College-CyFair will hold an Adjunct Faculty Hiring Fair from 8 a.m. to noon Saturday, April 27.
Representatives will be on hand to review applicant materials for day, evening and weekend class positions available at all LSC-CyFair locations including LSC-Fairbanks Center and the new LSC-Cypress Center opening this fall. Human Resources staff and several college administrators will be in attendance as well.
Hiring fair attendees are encouraged to search for positions and to apply online at jobs.LoneStar.edu using Internet Explorer versions 7 or 8. Attendees are asked to bring several printed copies of their résumé and transcripts as well as in electronic format, such as on a flash drive.
In addition to meeting with department chairs and deans, the hiring fair will include optional sessions on topics such as "The Qualities of an Outstanding Adjunct Instructor," "Benefits Available to Adjunct Instructors in LSCS" and "The New LSC-Cypress Center" as well as optional drop-in labs to get academic résumé reviews, tips on ways to improve application materials and assistance filling out the online application. A light continental breakfast will be served.
LSC-CyFair is recruiting adjunct faculty in many disciplines, such as speech communication; English, math, ESOL, engineering and engineering technology, drafting, welding, nursing, psychology and history.
Adjunct faculty hiring is based on student demand. The minimum qualifications to teach in most areas are a master's degree or a master's degree with 18 graduate hours in teaching discipline. A criminal background check is required on applicants. LSC-CyFair is part of the Lone Star College System and is an Affirmative Action/Equal Employment Opportunity institution.
The April 27 hiring fair will be held in the Center for Academics and Student Affairs (CASA) building at 9191 Barker Cypress. For information prior to the fair, call LSC-CyFair's Manager of Adjunct Support Georges Detiveaux at 281.290.5975.
For a full hiring fair schedule and complete listing of adjunct positions as well as educational and submission requirements, visit LoneStar.edu/cf-adj-hiring-fair.