Lone Star College-Montgomery's dance department will present it's Mainstage Studio showcase performance on Wednesday, April 24, at 5:30 p.m., in the Mainstage Theatre, located in the college's Performing Arts Center (Building D). Admission is free, and the event is open to the public.
Mainstage Studio is the dance department's informal dance showing, showcasing the dance technique classes that LSC-Montgomery offers and demonstrating the skills learned in those classes. There will also be selected performances choreographed by current dance students.
According to Tiffany Nirider, adjunct instructor of dance at LSC-Montgomery, this performance began years ago as an opportunity to promote the dance program within the community.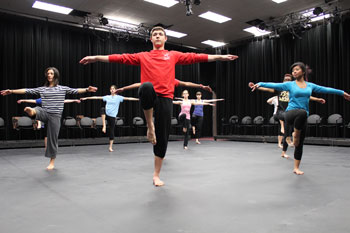 Dance instructor Tiffany Nirider (far left) and students Jake Crouch and Xhaidie Mateo work on balance and flexibility as they participate in the Modern Dance class offered at LSC-Montgomery.
"Many students aren't aware that dance is offered at the Montgomery campus, or they have no idea what to expect from taking a dance class," said Nirider. "The performance can hopefully give them insight into what they might learn in a semester of dance."
LSC-Montgomery's dance program began in 2008, when LSC-Montgomery first offered Dance Appreciation. Soon after, the college added performance courses. Nirider, who has been involved in the world of dance for 33 years, teaches all of the dance classes.
Nirider said it's evident that there is a strong interest in dance within the community.
"It would be wonderful to fill a gap in the area for dancers and non-dancers who are looking to expand their knowledge in dance after high school," she said. "Many of our students are returning to dance after a hiatus, because they felt there were no options for them to continue dance after high school unless enrolling in a four-year institution and majoring in dance."
LSC-Montgomery currently offers ballet, modern, and dance appreciation courses. The students focus on technique and artistry, while continuing to explore their creativity and find their own personal style. Throughout the year, the dance program attends various dance festivals and performing venues.
"The dance program is not only for experienced dancers," Nirider added. "We welcome students of all backgrounds and levels."
"It is truly magical when students of all ages, backgrounds, and styles come together to create a unified movement of dance art. I strive to foster a safe environment in which students can develop self-expression freely through movement."
For more information about the dance department, please contact Fong Chau, program coordinator for theatre/fine arts at LSC-Montgomery, at (936) 273-7021 or Fong.T.Chau@LoneStar.edu.
LSC-Montgomery is located at 3200 College Park Drive, one-half mile west of Interstate 45, between Conroe and The Woodlands. For more information about the college, call 936.273.7000, or visit www.LoneStar.edu/montgomery.
Lone Star College System has been opening doors to a better community for 40 years. Founded in 1973, LSCS remains steadfast in its commitment to student success and credential completion. Today, with 78,000 students in credit classes, and a total enrollment of more than 90,000, Lone Star College System is the largest institution of higher education in the Houston area and the fastest-growing community college system in the nation. Dr. Richard Carpenter is the chancellor of LSCS, which consists of six colleges including LSC-CyFair, LSC-Kingwood, LSC-Montgomery, LSC-North Harris, LSC-Tomball and LSC-University Park, five centers, LSC-University Center at Montgomery, LSC-University Center at University Park, Lone Star Corporate College, and LSC-Online. To learn more visit LoneStar.edu.