Lone Star College-CyFair's Student Government Association recently won Chapter, Student and Advisor of the Year awards at the Texas Junior College Student Government Association Regional Convention.
"This is an exciting time for LSC-CyFair's Student Life. When I arrived here two years ago, our SGA Chapter had very little involvement in the TJCSGA," said Daniel Villanueva, LSC-CyFair's Program Manager for Student Life and SGA advisor. "We've now been voted most professional in our region and won all three regional awards to advance to state competition this April."
LSC-CyFair SGA was named 2012-2013 Region V (Houston Area) Chapter of the Year Award from among Alvin Community College, Brazosport College, College of the Mainland, Galveston College, six individual Houston Community Colleges, Lee College, six individual Lone Star Colleges and three individual San Jacinto Colleges.
In addition, SGA President Antonio Juarez was named as Student of the Year and Villanueva was named Advisor of the Year.
"We're excited about the April convention and looking forward to another year of success," said Villanueva. "LSC-CyFair's administrative support of Student Life and SGA has had a great impact on student development and involvement with on-campus activities."
Among some of SGA's efforts this past year are successful events such as hosting DUCK Camp, Welcome Week, 2012 Election Watch Party, Halloween Bash, Hispanic Heritage Month and the Student Leadership Conference.
Serving as a vehicle for effective communication, LSC-CyFair's SGA seeks to strengthen outreach efforts between the college and students. For information on SGA, go to LoneStar.edu/clubs-cyfair or email Daniel.Villanueva@LoneStar.edu.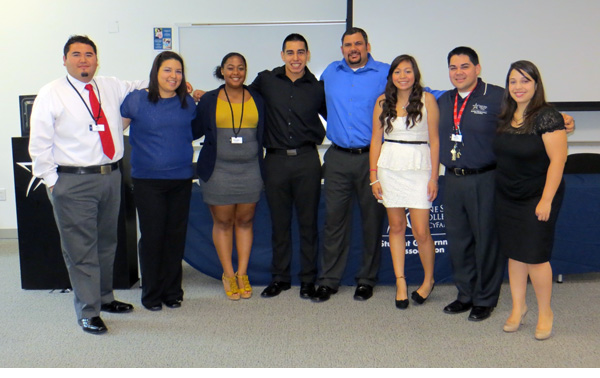 From left are Lone Star College-CyFair's Student Government Association 2013-2014 officers and advisors: Ovi Galvan, Adjunct Professor of American Government; Karen Reyes; Deja McClendon; Eddie Beltran; Antonio Juarez, SGA president; Jocelyn Flores; Daniel Villanueva, Program Manager for Student Life and Brenda Rivera, Professor of Transitional English at LSC-Fairbanks Center.