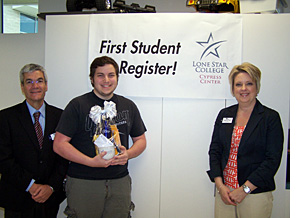 Lone Star College-CyFair college administrators and employees are excited to be opening the new full-service Lone Star College-Cypress Center in Fall 2013.
Following Lone Star College System's successful 2008 Bond Referendum, LSC-CyFair purchased property at 19710 Clay Road at Fry Road to build a new campus to serve the southwest quadrant of the college's service area.
There is a high concentration of manufacturing companies in the area near the new center, which is located less than three miles from the I-10 energy corridor. In addition to offering core academic courses and transitional education courses, several workforce programs including: Drafting, Engineering Technology, Geographic Information Systems, Machining and Welding, will be transferred to the center.
Registration for LSCS fall classes began April 10 and the first student to register for a course to be offered at LSC-Cypress Center was drafting student Cody Gabriel.
Ground was broken June 28, 2010 and construction is now under way on the 83,000-square-foot campus, which will feature a 13,500 square-foot workforce lab area, 14 classrooms, 8 computer labs, 2 training rooms, 1 biology lab, 1 craft/kitchen lab and a student services area (including tutoring, testing, registration and bookstore) as well as administrative, staff and faculty offices.
Deana Sheppard, LSC-CyFair Associate Vice President for College Centers said eight workforce faculty and a Director of Advanced Technology will be housed at the center. A staffing plan is also under way that includes hiring of additional faculty and staff.
For information and updates, go to LoneStar.edu/cypresscenter or call 832.782.5082.