A group of veterans offered Lone Star College-Montgomery staff and faculty a glimpse into the modern student veteran during "Vets Uncensored," a question and answer session held last month at LSC-Montgomery.
Four student veterans—Terrance Hudson, Keith Kniskern, Brenner Locke, and Chavon Salter, answered questions covering the difficulties faced transitioning from military to civilian life; being acknowledged by others for their service; being identified in the classroom as a veteran; ways to use military training to succeed in academia; and more.
The overarching goal was to help staff and faculty, as well other students, better understand the unique issues veterans face when trading combat boots and a military uniform for a backpack full of textbooks and homework assignments.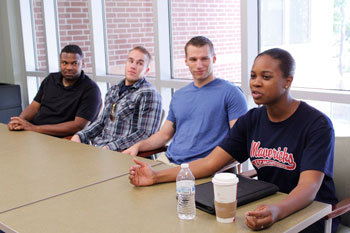 A small group of veterans at Lone Star College-Montgomery fielded questions from faculty, staff, and other students to help the LSC-Montgomery community better understand the unique issues veterans face at college. Students (from left to right) Terrance Hudson, Brenner Locke, Keith Kniskern, and Chavon Salter coordinated the panel as part of a class project.
"We can learn a lot from this group of students, who saw this as an opportunity to serve their community," said Simone Rieck, professor of English at LSC-Montgomery. "They have experienced a lot both in and outside of the college. This panel provides them a way to thank the college, while also helping it serve future veteran students."
The idea originated from the veterans themselves, who are enrolled in Rieck's Composition and Rhetoric II course (ENGL 1302), which is linked to Federal Government (GVMT 2305) taught by professor David Kennedy.
For their final course project, which requires them to discuss the role of the citizen in the political process, the veteran group created this panel to approach the topic in an engaging, real-world environment.
"We hope this will encourage students to be more aware of who is around them," said Salter, a second-year student at LSC-Montgomery who works on campus as a Maverick Leader. Salter served eight years in the U.S. Army and is currently serving with the National Guard. "Perhaps this will encourage other veteran students to seek each other out. Maybe we can add even more resources for our student veterans."
The number of veterans that LSC-Montgomery serves has grown considerably in the last few years, up to approximately 3,000 throughout Lone Star College System. For the 500 veterans that attend LSC-Montgomery, the college offers personalized help with VA, state, and federal benefits; veteran-specific orientations; assistance with classroom accommodation; special outreach services for life outside the college; and an assistive technology lab for anyone with specialized needs.
"Lone Star is a veteran-friendly school," said Valerie Shepherd, LSC-Montgomery's veteran student support specialist. "We are always doing whatever we can to help our veterans be successful."
For more information on the services offered for veterans, visit www.LoneStar.edu/veterans-affairs.
LSC-Montgomery is located at 3200 College Park Drive, one-half mile west of Interstate 45, between Conroe and The Woodlands. For more information about the college, call 936.273.7000, or visit www.LoneStar.edu/montgomery.
Lone Star College System has been opening doors to a better community for 40 years. Founded in 1973, LSCS remains steadfast in its commitment to student success and credential completion. Today, with 78,000 students in credit classes, and a total enrollment of more than 90,000, Lone Star College System is the largest institution of higher education in the Houston area and the fastest-growing community college system in the nation. Dr. Richard Carpenter is the chancellor of LSCS, which consists of six colleges including LSC-CyFair, LSC-Kingwood, LSC-Montgomery, LSC-North Harris, LSC-Tomball and LSC-University Park, five centers, LSC-University Center at Montgomery, LSC-University Center at University Park, Lone Star Corporate College, and LSC-Online. To learn more visit LoneStar.edu.