At the age of 45, Leslie Hinojosa made a decision that changed the course of her life. With prompting from her sister, Hinojosa uprooted her family and moved from Corpus Christi to Montgomery for a fresh start, beginning with obtaining her General Education Development (GED) certificate from Lone Star College-Montgomery in 2007.
Now six years later, Hinojosa has received her Texas Education Aide II certificate, started a career as a special education paraprofessional, begun working on a degree in education, and is on her way to becoming an elementary teacher.
"I realized it wasn't too late for me," said Hinojosa, who has three children and three grandchildren. "Life throws us curve balls now and then, but you can overcome them. If I can do it through illness, while working, and while raising my family, others can too."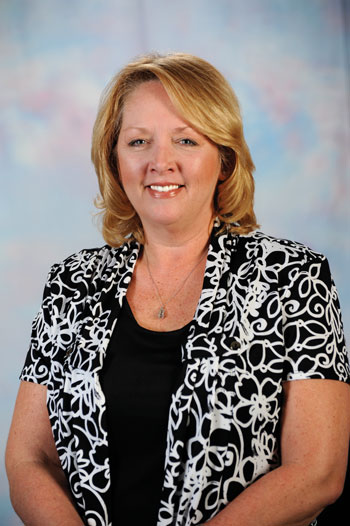 Leslie Hinojosa found a fresh start in life when she earned her GED from Lone Star College-Montgomery in 2007. Herndon, who is now on her way to becoming an elementary teacher, will address GED graduates at the annual GED Graduation Ceremony on May 15 at LSC-Montgomery.
Hinojosa will share her story and inspire others at LSC-Montgomery's annual GED Graduation Ceremony on Wednesday, May 15, at 6:30 p.m., in the Mainstage Theatre, located in the college's Performing Arts Center (Building D).
Attendees will also hear from Melanie De León, an on air radio and television personality with Univision who was born and raised in Houston. De León is currently a student at Lone Star College-CyFair, working toward her degree in communication.
The graduation honors the 216 students who took the college's GED preparation course and passed the exam during the last year, marking an important step in enhancing their future.
"At my (GED) graduation, I walked the stage with tears in my eyes and my head held high," Hinojosa said. "I knew I was a strong, self-determined woman with many dreams to accomplish. I hope these graduates will believe in themselves and find the determination to succeed in the dreams they are dreaming to become who they are meant to be.
Hinojosa's oldest son recently completed LSC-Montgomery's GED course and the exam. He is waiting to hear back on his final test score, but Hinojosa is hopeful that he will get to be a part of the ceremony.
"GED brings together so many people, since the age (of those enrolled) ranges from young to old," she said.
Dr. Austin A. Lane, president of LSC-Montgomery, will preside over the ceremony. A reception for the graduates and their family and friends will take place in the same location immediately following the ceremony.
The GED program — first developed to provide returning World War II veterans with an opportunity to earn high school credentials — has served as a bridge to education and employment opportunities for an estimated 15 million since 1942. Today, approximately one in seven high school diplomas issued in the United States each year is a GED diploma.
LSC-Montgomery offers the GED review course and the GED test — both in English and in Spanish at Lone Star College-Conroe Center. Students must be 17 years of age or have parent or guardian permission to take either one.
For more information about the college's GED program, call the continuing education office at (936) 273-7446.
LSC-Montgomery is located at 3200 College Park Drive, one-half mile west of Interstate 45, between Conroe and The Woodlands. For more information about the college, call 936.273.7000, or visit www.LoneStar.edu/montgomery.
Lone Star College System has been opening doors to a better community for 40 years. Founded in 1973, LSCS remains steadfast in its commitment to student success and credential completion. Today, with 78,000 students in credit classes, and a total enrollment of more than 90,000, Lone Star College System is the largest institution of higher education in the Houston area and the fastest-growing community college system in the nation. Dr. Richard Carpenter is the chancellor of LSCS, which consists of six colleges including LSC-CyFair, LSC-Kingwood, LSC-Montgomery, LSC-North Harris, LSC-Tomball and LSC-University Park, five centers, LSC-University Center at Montgomery, LSC-University Center at University Park, Lone Star Corporate College, and LSC-Online. To learn more visit LoneStar.edu.