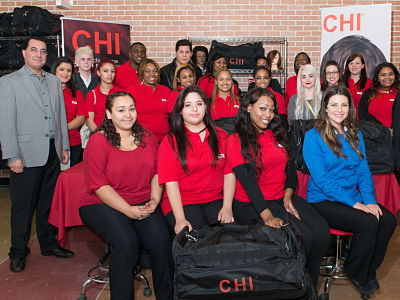 CHI Lone Star College-North Harris School of Cosmetology students recently hosted two community hair events, giving the students the opportunity to put their skills in action.
As they move closer to entering the workforce, students need to know how prepare themselves to make their debuts in the cosmetology world with style and professionalism. These events not only provided students with the opportunity to gain experience in an active salon environment, but it also promoted CHI's Enviro blow out product line.
"I am in love with these students!" said Lisa Marie Garcia, vice president of shows, education, and schools at CHI. "To see them in action and the energy I felt from them…their willingness to learn and be the best they can be and make beautiful hair. We are creating the next generation of professionals and setting the standard for the industry."
At the blow out event, 40 people experienced the latest CHI product line with the free Enviro blow out. Another 75 people took advantage of free haircuts by the aspiring cosmetologists.
"The events were fun!" said Daniel Grant, Lone Star College-North Harris CHI Cosmetology student." I really got to experience what it felt like in a salon because we had to sit down and have a consultation with our clients, and I learned that it's important to listen to the customer and what they want. Each event was about gaining experience, but people seemed excited."
The CHI Enviro product line is designed to smooth and soften hair. It's eliminates 95 percent of frizz and leaves hair silky and manageable. Infused with amino acids, silk, and pearls, this product has a made a smashing hit in the salons. Farouk Systems prides itself in making hair healthier and stronger; every product made backs that up.
Experience is key in the hair industry. These students not only gave their clients the best service possible, but now their clients are more than willing to return for future hair services.
"I was so enthusiastic to see all the support we received from the Lone Star College campus and CHI's employees. The students had a great time, and enjoyed interacting with their clients. Everyone is looking forward to the future student events," said Tiffany Burton, cosmetology instructor at Lone Star College-North Harris CHI School of Cosmetology.
The CHI Lone Star College-North Harris School of Cosmetology is now accepting applications for its full and part-time programs starting this fall. The deadline to apply is July 12, 2013. Additional information and applications are available at LoneStar.edu/CHIschool.
###
About Farouk Systems, Inc.
Farouk Systems, Inc. is a Houston based company that manufactures high quality professional hair care products. The company's major brands include CHI® and BioSilk®. Farouk Systems was founded in 1986 by Farouk Shami with the mission of 'Education and Ethics' and now has more than 2,000 employees and product distribution in over 100 countries worldwide. For more information visit www.farouk.com and like us on facebook.com/farouksystems.
About Lone Star College
Lone Star College System has been opening doors to a better community for 40 years. Founded in 1973, LSCS remains steadfast in its commitment to student success and credential completion. Today, with 78,000 students in credit classes, and a total enrollment of more than 90,000, Lone Star College System is the largest institution of higher education in the Houston area and the fastest-growing community college system in the nation. Dr. Richard Carpenter is the chancellor of LSCS, which consists of six colleges including LSC-CyFair, LSC-Kingwood, LSC-Montgomery, LSC-North Harris, LSC-Tomball and LSC-University Park, five centers, LSC-University Center at Montgomery, LSC-University Center at University Park, Lone Star Corporate College, and LSC-Online. To learn more visit LoneStar.edu.